Cowen Inc (NASDAQ:COWN) Director Peter A. Cohen sold 1,000 shares of the business's stock in a transaction on Thursday, April 5th. The stock was sold at an average price of $14.20, for a total value of $14,200.00. Following the completion of the transaction, the director now directly owns 888,877 shares of the company's stock, valued at $12,622,053.40. The transaction was disclosed in a legal filing with the Securities & Exchange Commission, which can be accessed through this hyperlink.
NASDAQ COWN opened at $14.45 on Thursday. Cowen Inc has a fifty-two week low of $11.63 and a fifty-two week high of $18.25. The firm has a market capitalization of $427.13, a PE ratio of 26.85 and a beta of 1.27. The company has a quick ratio of 1.04, a current ratio of 1.04 and a debt-to-equity ratio of 0.80.
Cowen (NASDAQ:COWN) last released its quarterly earnings results on Thursday, February 15th. The financial services provider reported ($0.30) earnings per share for the quarter, missing the Zacks' consensus estimate of $0.39 by ($0.69). Cowen had a positive return on equity of 1.99% and a negative net margin of 9.24%. The company had revenue of $204.50 million during the quarter, compared to analyst estimates of $178.98 million. During the same period last year, the firm earned ($0.48) earnings per share. The business's revenue was up 67.2% compared to the same quarter last year.
Cowen declared that its board has approved a stock buyback plan on Thursday, February 15th that allows the company to repurchase $23.60 million in shares. This repurchase authorization allows the financial services provider to purchase shares of its stock through open market purchases. Stock repurchase plans are typically a sign that the company's management believes its stock is undervalued.
A number of research firms have recently weighed in on COWN. BidaskClub raised Cowen from a "strong sell" rating to a "sell" rating in a report on Friday, December 22nd. Nomura raised Cowen from a "neutral" rating to a "buy" rating and boosted their price target for the stock from $13.00 to $16.00 in a report on Friday, February 16th.
A number of institutional investors have recently added to or reduced their stakes in COWN. Ariel Investments LLC increased its stake in Cowen by 32.9% in the fourth quarter. Ariel Investments LLC now owns 2,129,096 shares of the financial services provider's stock valued at $29,062,000 after purchasing an additional 526,822 shares during the last quarter. Philadelphia Financial Management of San Francisco LLC acquired a new position in Cowen in the fourth quarter valued at $5,470,000. Garnet Equity Capital Holdings Inc. acquired a new position in Cowen in the fourth quarter valued at $4,095,000. Gator Capital Management LLC acquired a new position in Cowen in the fourth quarter valued at $2,715,000. Finally, Cowen Inc. acquired a new position in Cowen in the fourth quarter valued at $2,036,000. Hedge funds and other institutional investors own 85.84% of the company's stock.
COPYRIGHT VIOLATION WARNING: This story was first reported by Dakota Financial News and is the property of of Dakota Financial News. If you are accessing this story on another website, it was illegally stolen and republished in violation of United States and international copyright & trademark laws. The original version of this story can be viewed at https://dakotafinancialnews.com/2018/04/12/cowen-inc-cown-director-sells-14200-00-in-stock.html.
Cowen Company Profile
Cowen Inc, formerly Cowen Group, Inc, is a financial services company. The Company provides alternative investment management, investment banking, research, sales and trading, and prime brokerage services. It operates through two segments: alternative investment and broker-dealer. The alternative investment segment includes private equity structures, registered investment companies and listed investment vehicles.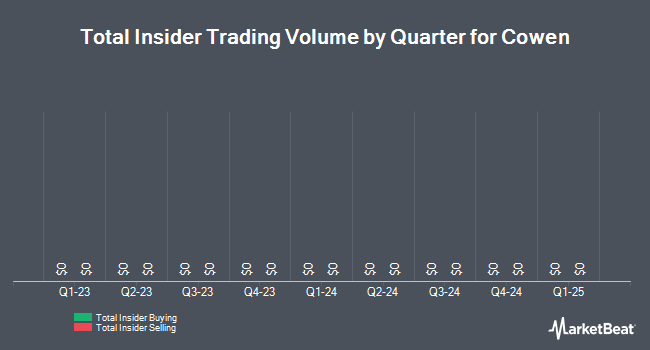 Receive News & Ratings for Cowen Daily - Enter your email address below to receive a concise daily summary of the latest news and analysts' ratings for Cowen and related companies with MarketBeat.com's FREE daily email newsletter.