Kinross Gold Co. (TSE:K) (NYSE:KGC) – Equities research analysts at National Bank Financial issued their Q1 2018 EPS estimates for shares of Kinross Gold in a research report issued to clients and investors on Monday, April 9th. National Bank Financial analyst D. Demarco expects that the company will post earnings of $0.03 per share for the quarter.
Kinross Gold (TSE:K) (NYSE:KGC) last posted its quarterly earnings results on Wednesday, February 14th. The company reported C$0.02 earnings per share (EPS) for the quarter, missing the Thomson Reuters' consensus estimate of C$0.05 by C($0.03). The firm had revenue of C$1.03 billion for the quarter, compared to analyst estimates of C$1.06 billion. Kinross Gold had a net margin of 7.26% and a return on equity of 5.54%.
Several other equities research analysts have also weighed in on the company. BMO Capital Markets lowered Kinross Gold from an "outperform" rating to a "market perform" rating in a research report on Tuesday. Canaccord Genuity increased their target price on Kinross Gold from C$9.25 to C$10.50 in a research report on Friday, January 19th. Two investment analysts have rated the stock with a sell rating, three have issued a hold rating, three have given a buy rating and one has assigned a strong buy rating to the stock. The stock presently has a consensus rating of "Hold" and an average target price of C$6.59.
K stock opened at C$4.77 on Wednesday. Kinross Gold has a 12-month low of C$4.44 and a 12-month high of C$6.29.
In other news, insider Gregory Van Etter sold 80,567 shares of the stock in a transaction on Wednesday, March 28th. The stock was sold at an average price of C$3.91, for a total value of C$315,016.97. Also, insider Claude J.S. Schimper sold 65,000 shares of the stock in a transaction on Thursday, March 1st. The stock was sold at an average price of C$4.53, for a total value of C$294,450.00. In the last three months, insiders sold 199,089 shares of company stock valued at $876,247.
TRADEMARK VIOLATION NOTICE: This report was first posted by Dakota Financial News and is owned by of Dakota Financial News. If you are reading this report on another site, it was stolen and republished in violation of US & international trademark & copyright law. The original version of this report can be accessed at https://dakotafinancialnews.com/2018/04/13/kinross-gold-co-k-to-post-q1-2018-earnings-of-0-03-per-share-national-bank-financial-forecasts.html.
Kinross Gold Company Profile
Kinross Gold Corporation, together with its subsidiaries, engages in the acquisition, exploration, extraction, and processing of gold-containing ore. It also engages in the reclamation of gold mining properties; and production and sale of silver. The company's gold production and exploration activities are carried out principally in Canada, the United States, Russia, Brazil, Chile, Ghana, and Mauritania.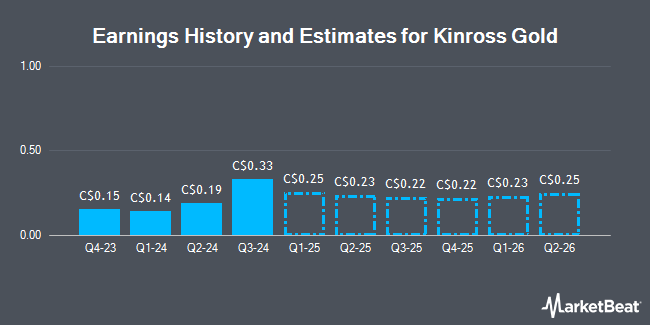 Receive News & Ratings for Kinross Gold Daily - Enter your email address below to receive a concise daily summary of the latest news and analysts' ratings for Kinross Gold and related companies with MarketBeat.com's FREE daily email newsletter.