NuVista Energy (TSE:NVA) had its target price cut by National Bank Financial from C$10.00 to C$9.50 in a research report report published on Thursday morning. They currently have an outperform rating on the stock.
NVA has been the topic of several other reports. Desjardins lifted their price target on NuVista Energy from C$10.75 to C$11.50 in a research report on Wednesday, February 14th. TD Securities dropped their price target on NuVista Energy from C$10.50 to C$10.00 and set a buy rating on the stock in a research report on Tuesday, March 13th. Finally, BMO Capital Markets upgraded NuVista Energy from a market perform rating to an outperform rating and set a C$9.50 price target on the stock in a research report on Thursday, January 11th. Seven equities research analysts have rated the stock with a buy rating, The company presently has a consensus rating of Buy and an average target price of C$9.75.
Shares of TSE NVA traded up C$0.02 during mid-day trading on Thursday, hitting C$7.79. 22,466 shares of the stock traded hands, compared to its average volume of 501,718. NuVista Energy has a 52 week low of C$5.91 and a 52 week high of C$9.16.
NuVista Energy (TSE:NVA) last released its quarterly earnings results on Monday, March 12th. The company reported C$0.20 earnings per share for the quarter, beating the Thomson Reuters' consensus estimate of C$0.18 by C$0.02. NuVista Energy had a negative return on equity of 2.12% and a negative net margin of 5.40%. The company had revenue of C$131.01 million for the quarter, compared to analyst estimates of C$130.80 million.
In other NuVista Energy news, Director Keith A.J. Macphail sold 15,000 shares of the business's stock in a transaction on Friday, March 16th. The stock was sold at an average price of C$7.41, for a total value of C$111,150.00.
WARNING: This story was published by Dakota Financial News and is owned by of Dakota Financial News. If you are reading this story on another publication, it was stolen and republished in violation of US and international copyright & trademark legislation. The correct version of this story can be read at https://dakotafinancialnews.com/2018/04/13/nuvista-energy-nva-given-new-c9-50-price-target-at-national-bank-financial.html.
NuVista Energy Company Profile
NuVista Energy Ltd., an exploration and production company, engages in the development, delineation, and production of condensate, oil, and natural gas reserves in the Western Canadian Sedimentary Basin in Canada. It primarily focuses on the condensate-rich Montney formation in the Wapiti area of the Alberta Deep Basin.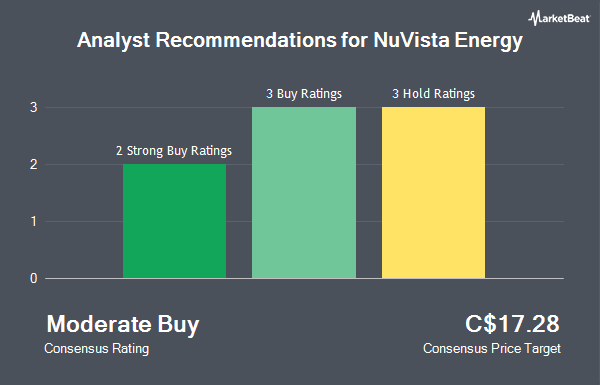 Receive News & Ratings for NuVista Energy Daily - Enter your email address below to receive a concise daily summary of the latest news and analysts' ratings for NuVista Energy and related companies with MarketBeat.com's FREE daily email newsletter.