Premium Brands (TSE:PBH) had its target price hoisted by equities researchers at TD Securities from C$125.00 to C$140.00 in a research note issued to investors on Wednesday. The brokerage currently has an "action list buy" rating on the stock. TD Securities' price objective would indicate a potential upside of 18.10% from the company's previous close.
A number of other research firms have also recently weighed in on PBH. National Bank Financial boosted their price objective on shares of Premium Brands from C$115.00 to C$125.00 and gave the company an "outperform" rating in a research report on Friday, March 16th. Royal Bank of Canada cut their price objective on shares of Premium Brands from C$120.00 to C$119.00 and set an "outperform" rating on the stock in a research report on Monday, February 26th. Finally, CIBC set a C$116.00 price objective on shares of Premium Brands and gave the company an "outperform" rating in a research report on Thursday, January 18th. One equities research analyst has rated the stock with a hold rating, five have issued a buy rating and one has issued a strong buy rating to the stock. Premium Brands presently has an average rating of "Buy" and a consensus target price of C$126.43.
PBH stock opened at C$118.54 on Wednesday. Premium Brands has a twelve month low of C$82.16 and a twelve month high of C$119.29.
Premium Brands (TSE:PBH) last posted its quarterly earnings data on Thursday, March 15th. The company reported C$0.61 earnings per share for the quarter, missing the Zacks' consensus estimate of C$0.86 by C($0.25). Premium Brands had a net margin of 3.82% and a return on equity of 19.68%. The firm had revenue of C$585.40 million for the quarter, compared to the consensus estimate of C$611.90 million.
In other news, Director Stephen Sposari sold 5,800 shares of the company's stock in a transaction dated Monday, March 19th. The shares were sold at an average price of C$110.77, for a total value of C$642,466.00.
TRADEMARK VIOLATION NOTICE: This news story was originally published by Dakota Financial News and is the property of of Dakota Financial News. If you are reading this news story on another domain, it was stolen and republished in violation of US & international trademark and copyright laws. The correct version of this news story can be accessed at https://dakotafinancialnews.com/2018/04/13/premium-brands-pbh-pt-raised-to-c140-00.html.
About Premium Brands
Premium Brands Holdings Corporation manufactures and distributes food products in Canada and the United States. It operates through two segments, Specialty Foods and Premium Food Distribution. The company provides premium and natural processed meat products, specialty deli products, meat snacks, beef jerky and halal products, sandwiches, pastries, specialty and gourmet products, salads and kettle products, entres, panini products, wraps, subs, hamburgers, burgers, muffins, breads, specialty pastas, and sushi products.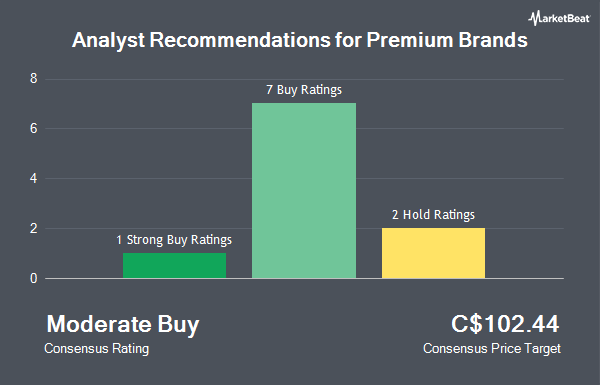 Receive News & Ratings for Premium Brands Daily - Enter your email address below to receive a concise daily summary of the latest news and analysts' ratings for Premium Brands and related companies with MarketBeat.com's FREE daily email newsletter.