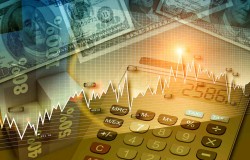 PrimeEnergy (NASDAQ:PNRG) will announce its earnings results before the market opens on Monday, April 16th.
Shares of NASDAQ PNRG opened at $52.90 on Friday. PrimeEnergy has a 52-week low of $39.80 and a 52-week high of $56.20. The firm has a market cap of $115.63, a PE ratio of 9.55 and a beta of -0.06. The company has a debt-to-equity ratio of 0.61, a current ratio of 0.72 and a quick ratio of 0.72.
A hedge fund recently raised its stake in PrimeEnergy stock. Northern Trust Corp grew its stake in shares of PrimeEnergy Co. (NASDAQ:PNRG) by 6.8% in the 2nd quarter, according to its most recent filing with the Securities & Exchange Commission. The firm owned 10,624 shares of the oil and natural gas company's stock after buying an additional 678 shares during the period. Northern Trust Corp owned 0.47% of PrimeEnergy worth $500,000 as of its most recent SEC filing. Institutional investors and hedge funds own 2.33% of the company's stock.
COPYRIGHT VIOLATION NOTICE: "PrimeEnergy (PNRG) to Release Quarterly Earnings on Monday" was originally published by Dakota Financial News and is the sole property of of Dakota Financial News. If you are viewing this story on another publication, it was illegally copied and republished in violation of US & international trademark & copyright law. The original version of this story can be read at https://dakotafinancialnews.com/2018/04/14/primeenergy-pnrg-to-release-quarterly-earnings-on-monday.html.
About PrimeEnergy
PrimeEnergy Corporation, an independent oil and natural gas company, through its subsidiaries, engages in acquiring, developing, and producing oil and natural gas properties in the United States. It also acquires producing oil and gas properties through joint ventures with industry partners; and provides contract services to third parties, including well-servicing support operations, site-preparation, and construction services for oil and gas drilling and reworking operations.
Receive News & Ratings for PrimeEnergy Daily - Enter your email address below to receive a concise daily summary of the latest news and analysts' ratings for PrimeEnergy and related companies with MarketBeat.com's FREE daily email newsletter.