Shore Capital restated their hold rating on shares of AstraZeneca (LON:AZN) in a research report released on Wednesday morning.
AZN has been the topic of a number of other research reports. Credit Suisse Group reiterated an outperform rating and set a GBX 5,800 ($81.98) price objective on shares of AstraZeneca in a research note on Tuesday, February 20th. Goldman Sachs set a GBX 3,800 ($53.71) price objective on AstraZeneca and gave the stock a sell rating in a research note on Monday, February 19th. UBS reiterated a neutral rating on shares of AstraZeneca in a research note on Monday, January 15th. Citigroup reiterated a buy rating and set a GBX 6,200 ($87.63) price objective on shares of AstraZeneca in a research note on Thursday, March 1st. Finally, Barclays reiterated a top pick rating on shares of AstraZeneca in a research note on Friday, March 9th. Four research analysts have rated the stock with a sell rating, six have issued a hold rating, thirteen have given a buy rating and one has given a strong buy rating to the stock. The stock has an average rating of Hold and a consensus price target of GBX 5,226.87 ($73.88).
Shares of AstraZeneca stock opened at GBX 5,010 ($70.81) on Wednesday. AstraZeneca has a 12-month low of GBX 4,260 ($60.21) and a 12-month high of GBX 5,520 ($78.02).
The company also recently disclosed a dividend, which was paid on Monday, March 19th. Shareholders of record on Thursday, February 15th were issued a GBX 133.60 ($1.89) dividend. This represents a yield of 2.8%. This is a positive change from AstraZeneca's previous dividend of $68.90. The ex-dividend date was Thursday, February 15th.
In other news, insider Philip A. J. Broadley acquired 415 shares of the firm's stock in a transaction on Friday, February 2nd. The shares were purchased at an average cost of GBX 4,846 ($68.49) per share, with a total value of £20,110.90 ($28,425.30).
COPYRIGHT VIOLATION WARNING: "Shore Capital Reiterates "Hold" Rating for AstraZeneca (AZN)" was posted by Dakota Financial News and is the property of of Dakota Financial News. If you are accessing this piece on another site, it was illegally stolen and republished in violation of U.S. & international copyright and trademark law. The correct version of this piece can be viewed at https://dakotafinancialnews.com/2018/04/14/shore-capital-reiterates-hold-rating-for-astrazeneca-azn.html.
About AstraZeneca
AstraZeneca PLC discovers, develops, and commercializes prescription medicines for the treatment of oncology, cardiovascular and metabolic, respiratory, gastrointestinal, neuroscience, and infection diseases worldwide. Its marketed products include Arimidex, Casodex/Cosudex, Calquence, Faslodex, Imfinzi, Iressa, Lynparza, Nolvadex, Tagrisso, and Zoladex for oncology diseases; Atacand1/Atacand HCT/Atacand Plus, Brilinta/Brilique, Crestor2, Plendil, Seloken/Toprol-XL4, Tenormin5, and Zestril6 for cardiovascular diseases; and Bydureon, Byetta, Farxiga/Forxiga, Kombiglyze XR, Komboglyze, Onglyza, Qtern, Symlin, Xigduo, and Xigduo XR for metabolic diseases.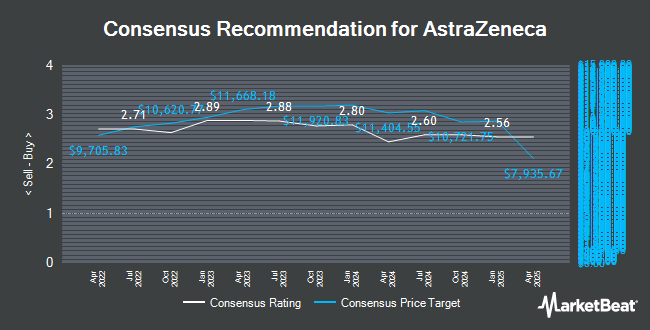 Receive News & Ratings for AstraZeneca Daily - Enter your email address below to receive a concise daily summary of the latest news and analysts' ratings for AstraZeneca and related companies with MarketBeat.com's FREE daily email newsletter.