WP Carey Inc (NYSE:WPC) announced a quarterly dividend on Thursday, June 14th, RTT News reports. Shareholders of record on Friday, June 29th will be given a dividend of 1.02 per share by the real estate investment trust on Monday, July 16th. This represents a $4.08 annualized dividend and a yield of 6.09%. This is a positive change from WP Carey's previous quarterly dividend of $1.02.
WP Carey has raised its dividend payment by an average of 3.4% annually over the last three years and has increased its dividend annually for the last 17 consecutive years. WP Carey has a payout ratio of 90.0% meaning its dividend is currently covered by earnings, but may not be in the future if the company's earnings decline. Analysts expect WP Carey to earn $4.97 per share next year, which means the company should continue to be able to cover its $4.04 annual dividend with an expected future payout ratio of 81.3%.
WP Carey traded up $1.09, hitting $66.97, during trading hours on Thursday, MarketBeat Ratings reports. The stock had a trading volume of 322,649 shares, compared to its average volume of 371,395. The company has a debt-to-equity ratio of 1.22, a quick ratio of 0.33 and a current ratio of 0.33. The firm has a market capitalization of $7.14 billion, a price-to-earnings ratio of 12.64, a price-to-earnings-growth ratio of 3.85 and a beta of 0.74. WP Carey has a 1-year low of $59.23 and a 1-year high of $72.41.
WP Carey (NYSE:WPC) last posted its earnings results on Friday, May 4th. The real estate investment trust reported $0.60 earnings per share for the quarter, beating the Thomson Reuters' consensus estimate of $0.53 by $0.07. The company had revenue of $201.81 million for the quarter, compared to analyst estimates of $212.23 million. WP Carey had a return on equity of 8.33% and a net margin of 38.04%. WP Carey's revenue was down 7.9% compared to the same quarter last year. During the same quarter in the prior year, the company earned $1.25 earnings per share. sell-side analysts forecast that WP Carey will post 4.84 EPS for the current fiscal year.
In related news, insider Arjun Mahalingam sold 614 shares of the stock in a transaction on Tuesday, May 29th. The stock was sold at an average price of $66.56, for a total transaction of $40,867.84. Following the sale, the insider now owns 2,272 shares of the company's stock, valued at $151,224.32. The transaction was disclosed in a filing with the SEC, which can be accessed through this hyperlink. Also, Director Christopher Niehaus acquired 4,000 shares of the firm's stock in a transaction that occurred on Friday, March 16th. The shares were bought at an average cost of $62.28 per share, for a total transaction of $249,120.00. Following the purchase, the director now owns 5,188 shares of the company's stock, valued at $323,108.64. The disclosure for this purchase can be found here. 1.56% of the stock is owned by company insiders.
Several analysts have weighed in on WPC shares. ValuEngine lowered WP Carey from a "buy" rating to a "hold" rating in a report on Tuesday, February 20th. Capital One Financial reissued an "equal weight" rating on shares of WP Carey in a report on Sunday, February 25th. Zacks Investment Research raised WP Carey from a "sell" rating to a "hold" rating in a report on Wednesday, February 28th. Finally, Wells Fargo & Co upped their target price on WP Carey from $65.00 to $69.00 and gave the company a "market perform" rating in a report on Thursday. Two investment analysts have rated the stock with a sell rating, four have issued a hold rating, one has given a buy rating and one has given a strong buy rating to the stock. The stock presently has a consensus rating of "Hold" and an average target price of $72.00.
WP Carey Company Profile
Celebrating its 45th anniversary, W. P. Carey Inc is a leading internally-managed net lease REIT that provides long-term sale-leaseback and build-to-suit financing solutions primarily for companies in the U.S. and Europe. At December 31, 2017, the Company had an enterprise value of approximately $11.5 billion.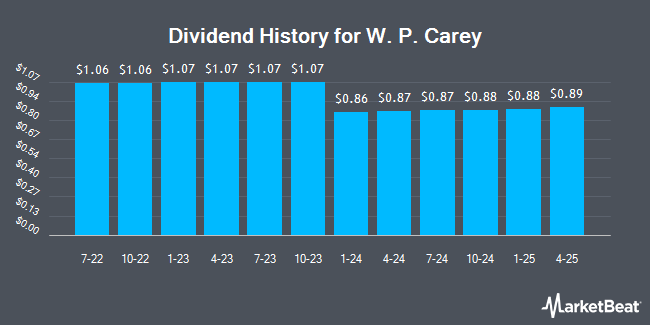 Receive News & Ratings for WP Carey Daily - Enter your email address below to receive a concise daily summary of the latest news and analysts' ratings for WP Carey and related companies with MarketBeat.com's FREE daily email newsletter.