Shares of Rewalk Robotics Ltd (NASDAQ:RWLK) have been given an average recommendation of "Buy" by the seven ratings firms that are currently covering the firm, Marketbeat reports. One equities research analyst has rated the stock with a sell rating, one has issued a hold rating and five have issued a buy rating on the company. The average 1-year target price among analysts that have covered the stock in the last year is $2.38.
Several research firms recently commented on RWLK. Zacks Investment Research raised Rewalk Robotics from a "hold" rating to a "buy" rating and set a $1.25 target price on the stock in a report on Thursday, August 30th. Oppenheimer set a $2.00 target price on Rewalk Robotics and gave the stock a "buy" rating in a report on Friday, August 24th.
Rewalk Robotics stock traded down $0.01 during midday trading on Friday, hitting $0.89. 2,236 shares of the company were exchanged, compared to its average volume of 168,716. The firm has a market cap of $32.34 million, a price-to-earnings ratio of -0.90 and a beta of 0.65. Rewalk Robotics has a fifty-two week low of $0.70 and a fifty-two week high of $1.75. The company has a quick ratio of 1.10, a current ratio of 1.37 and a debt-to-equity ratio of -5.27.
Rewalk Robotics (NASDAQ:RWLK) last posted its earnings results on Tuesday, August 14th. The medical device company reported ($0.14) EPS for the quarter, topping the consensus estimate of ($0.16) by $0.02. The firm had revenue of $1.77 million for the quarter, compared to analyst estimates of $1.90 million. Rewalk Robotics had a negative return on equity of 3,654.32% and a negative net margin of 365.87%. equities analysts expect that Rewalk Robotics will post -0.67 EPS for the current year.
Rewalk Robotics Company Profile
ReWalk Robotics Ltd., a medical device company, designs, develops, and commercializes exoskeletons for wheelchair-bound individuals with mobility impairments or other medical conditions. The company offers ReWalk Personal for everyday use to paraplegic individuals at home and in their communities; and ReWalk Rehabilitation for exercise and therapy used in hospitals and rehabilitation centers in the United States and Europe.
Read More: Short Selling – Explanation For Shorting Stocks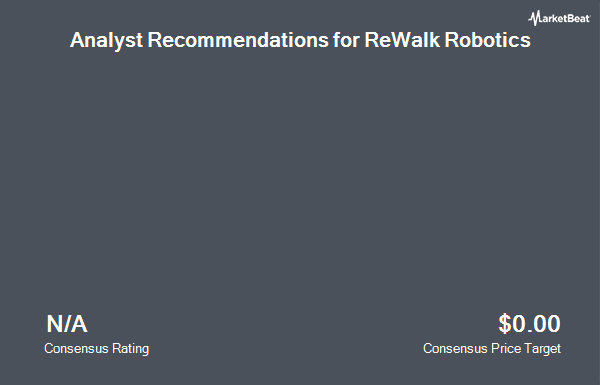 Receive News & Ratings for Rewalk Robotics Daily - Enter your email address below to receive a concise daily summary of the latest news and analysts' ratings for Rewalk Robotics and related companies with MarketBeat.com's FREE daily email newsletter.