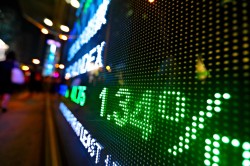 Equities research analysts at Deutsche Bank assumed coverage on shares of Qutoutiao (NASDAQ:QTT) in a note issued to investors on Thursday, The Fly reports. The brokerage set a "hold" rating on the stock.
Separately, KeyCorp began coverage on shares of Qutoutiao in a report on Tuesday. They issued an "overweight" rating and a $11.00 price objective for the company.
QTT stock opened at $7.05 on Thursday. Qutoutiao has a fifty-two week low of $6.53 and a fifty-two week high of $20.39.
Qutoutiao Company Profile
Qutoutiao Inc develops an application for news in China. Qutoutiao Inc was formerly known as Qtech Ltd. and changed its name to Qutoutiao Inc in July 2018. The company was founded in 2016 and is based in Shanghai, China.
Recommended Story: Stop Order

Receive News & Ratings for Qutoutiao Daily - Enter your email address below to receive a concise daily summary of the latest news and analysts' ratings for Qutoutiao and related companies with MarketBeat.com's FREE daily email newsletter.