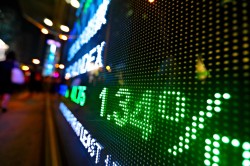 BTIG Research started coverage on shares of National Energy Services (NASDAQ:NESR) in a research report report published on Tuesday. The brokerage issued a buy rating and a $18.00 price target on the stock.
Several other research analysts have also commented on NESR. Evercore ISI began coverage on shares of National Energy Services in a research note on Wednesday, October 10th. They issued an outperform rating and a $17.00 price objective for the company. National Bank Financial reissued an outperform rating and issued a $15.00 price objective on shares of National Energy Services in a research note on Tuesday, July 31st.
Shares of NASDAQ NESR traded down $0.41 during midday trading on Tuesday, hitting $9.98. The company's stock had a trading volume of 390 shares, compared to its average volume of 105,522. The company has a debt-to-equity ratio of 0.22, a current ratio of 1.00 and a quick ratio of 0.80. National Energy Services has a 1 year low of $9.51 and a 1 year high of $14.38.
An institutional investor recently raised its position in National Energy Services stock. Crystal Rock Capital Management grew its holdings in National Energy Services (NASDAQ:NESR) by 64.5% in the 2nd quarter, according to the company in its most recent Form 13F filing with the SEC. The firm owned 378,236 shares of the company's stock after purchasing an additional 148,236 shares during the quarter. National Energy Services accounts for about 2.8% of Crystal Rock Capital Management's holdings, making the stock its 17th biggest holding. Crystal Rock Capital Management owned about 0.44% of National Energy Services worth $3,915,000 as of its most recent SEC filing. Institutional investors and hedge funds own 5.43% of the company's stock.
National Energy Services Company Profile
National Energy Services Reunited Corp. intends to engage in merger, share exchange, asset acquisition, stock purchase, recapitalization, reorganization, or other similar business combination with one or more target businesses. The company was founded in 2017 and is headquartered in Houston, Texas.
Featured Article: Trading Strategy Methods for Individual Investors

Receive News & Ratings for National Energy Services Daily - Enter your email address below to receive a concise daily summary of the latest news and analysts' ratings for National Energy Services and related companies with MarketBeat.com's FREE daily email newsletter.