Zacks Investment Research downgraded shares of Jones Energy (NYSE:JONE) from a hold rating to a sell rating in a report issued on Friday.
According to Zacks, "Jones Energy, Inc. is an independent oil and gas company. It engages in the development, production and acquisition of oil and natural gas properties in the Anadarko and Arkoma basins of Texas and Oklahoma. Jones Energy, Inc. is based in Austin, Texas. "
JONE has been the topic of a number of other research reports. ValuEngine downgraded Jones Energy from a buy rating to a hold rating in a research note on Wednesday, August 8th. Seaport Global Securities reaffirmed a neutral rating on shares of Jones Energy in a research note on Wednesday, July 25th. Finally, Stifel Nicolaus set a $14.00 price objective on Jones Energy and gave the stock a buy rating in a research note on Wednesday, September 26th. Three analysts have rated the stock with a sell rating, three have assigned a hold rating, one has issued a buy rating and one has assigned a strong buy rating to the stock. The stock presently has an average rating of Hold and an average target price of $14.80.
NYSE JONE
traded down $0.25 during trading hours on Friday, reaching $2.73. The company's stock had a trading volume of 129,129 shares, compared to its average volume of 166,799. The company has a current ratio of 1.28, a quick ratio of 1.28 and a debt-to-equity ratio of 1.94. Jones Energy has a 1 year low of $2.57 and a 1 year high of $696.00. The stock has a market cap of $15.33 million, a PE ratio of -0.33 and a beta of 2.69.
Jones Energy (NYSE:JONE) last released its quarterly earnings data on Monday, August 6th. The oil and gas producer reported ($5.80) earnings per share (EPS) for the quarter, missing the Zacks' consensus estimate of ($5.40) by ($0.40). Jones Energy had a negative return on equity of 16.15% and a negative net margin of 38.28%. The firm had revenue of $65.26 million during the quarter, compared to the consensus estimate of $56.57 million. On average, analysts forecast that Jones Energy will post -26.31 EPS for the current fiscal year.
An institutional investor recently raised its position in Jones Energy stock. Wolverine Asset Management LLC increased its stake in shares of Jones Energy Inc (NYSE:JONE) by 249,244.4% during the 2nd quarter, according to the company in its most recent filing with the SEC. The fund owned 775,461 shares of the oil and gas producer's stock after purchasing an additional 775,150 shares during the quarter. Wolverine Asset Management LLC owned 0.76% of Jones Energy worth $288,000 at the end of the most recent quarter.
Jones Energy Company Profile
Jones Energy, Inc, an independent oil and gas company, engages in the acquisition, exploration, development, and production of oil and natural gas properties in the mid-continent United States. It owns leasehold interests in oil and natural gas producing properties, as well as in undeveloped acreage located in the Anadarko Basin in Oklahoma and Texas.
Featured Story: Analyzing a company's cash flow statement
Get a free copy of the Zacks research report on Jones Energy (JONE)
For more information about research offerings from Zacks Investment Research, visit Zacks.com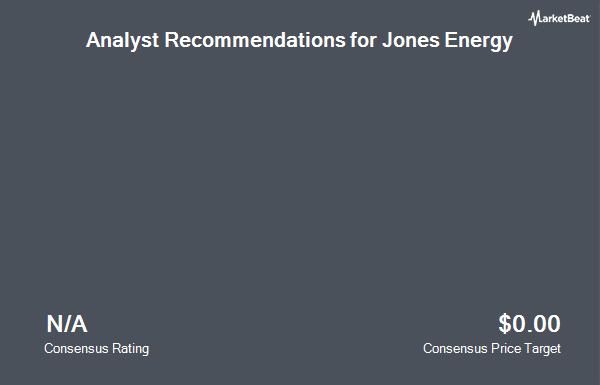 Receive News & Ratings for Jones Energy Daily - Enter your email address below to receive a concise daily summary of the latest news and analysts' ratings for Jones Energy and related companies with MarketBeat.com's FREE daily email newsletter.