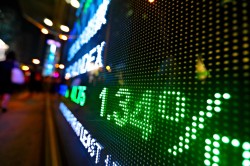 National Bank Financial set a C$2.65 price objective on NanoXplore (CVE:GRA) in a research report released on Tuesday morning. The firm currently has an outperform rating on the stock. National Bank Financial also issued estimates for NanoXplore's Q1 2019 earnings at ($0.01) EPS, Q2 2019 earnings at $0.00 EPS, Q3 2019 earnings at $0.00 EPS, Q4 2019 earnings at $0.00 EPS, FY2019 earnings at ($0.01) EPS and FY2020 earnings at $0.05 EPS.
Shares of GRA opened at C$1.45 on Tuesday. NanoXplore has a fifty-two week low of C$1.22 and a fifty-two week high of C$2.32.
NanoXplore Company Profile
NanoXplore, Inc, a graphene company, manufactures and supplies graphene powder for use in industrial markets. The company provides graphene-based solutions under the heXo-G brand, including graphene powder, graphene-plastic masterbatch pellets, and graphene enhanced polymers. It also offers standard and custom thermoplastic products to customers in food and health supplement packaging, recreational products, marine and aquaculture products, and other industrial sectors.
Recommended Story: What are Closed-End Mutual Funds?
Receive News & Ratings for NanoXplore Daily - Enter your email address below to receive a concise daily summary of the latest news and analysts' ratings for NanoXplore and related companies with MarketBeat.com's FREE daily email newsletter.