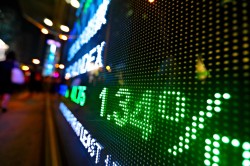 Raymond James cut shares of Trinidad Drilling (OTCMKTS:TDGCF) from an outperform rating to a market perform rating in a report released on Wednesday morning, The Fly reports.
Shares of TDGCF stock opened at $1.28 on Wednesday. Trinidad Drilling has a fifty-two week low of $1.04 and a fifty-two week high of $1.66.
Trinidad Drilling Company Profile
Trinidad Drilling Ltd. designs, builds, and operates drilling rigs for complex wells primarily in Canada, the United States, and internationally. It provides land drilling services. The company operates 70 rigs in Canada; and 69 rigs in the United States and internationally. It also engages in construction and insurance businesses; and provides rig technology and labor services.
Featured Story: Preferred Stock

Receive News & Ratings for Trinidad Drilling Daily - Enter your email address below to receive a concise daily summary of the latest news and analysts' ratings for Trinidad Drilling and related companies with MarketBeat.com's FREE daily email newsletter.