Renaissance Technologies LLC boosted its stake in Black Box Co. (NASDAQ:BBOX) by 8.2% during the second quarter, according to its most recent filing with the Securities and Exchange Commission (SEC). The firm owned 918,000 shares of the technology company's stock after purchasing an additional 69,900 shares during the period. Renaissance Technologies LLC owned about 6.03% of Black Box worth $1,859,000 at the end of the most recent reporting period.
Separately, Dimensional Fund Advisors LP increased its stake in shares of Black Box by 2.6% during the first quarter. Dimensional Fund Advisors LP now owns 1,046,198 shares of the technology company's stock valued at $2,092,000 after buying an additional 26,067 shares during the period. 47.02% of the stock is currently owned by hedge funds and other institutional investors.
BBOX opened at $0.93 on Friday. The company has a current ratio of 0.89, a quick ratio of 0.81 and a debt-to-equity ratio of 0.01. Black Box Co. has a 52-week low of $0.75 and a 52-week high of $4.15.
Black Box (NASDAQ:BBOX) last posted its earnings results on Monday, August 20th. The technology company reported ($0.28) earnings per share (EPS) for the quarter, missing the Thomson Reuters' consensus estimate of $0.03 by ($0.31). Black Box had a negative net margin of 12.61% and a negative return on equity of 24.71%. The business had revenue of $190.80 million for the quarter.
About Black Box
Black Box Corporation provides digital solutions that assist its customers to design, build, manage, and secure their IT infrastructure. It offers IT infrastructure, specialty networking, multimedia, and keyboard/video/mouse switching products. The company also provides communications lifecycle, unified communications, structured cabling, video/AV, in-building wireless, and data center services.
Recommended Story: Earnings Per Share (EPS)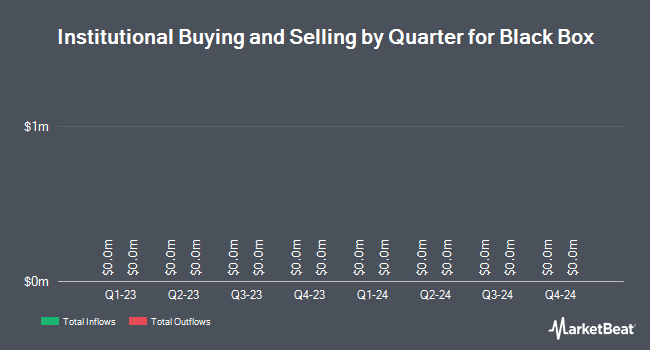 Receive News & Ratings for Black Box Daily - Enter your email address below to receive a concise daily summary of the latest news and analysts' ratings for Black Box and related companies with MarketBeat.com's FREE daily email newsletter.