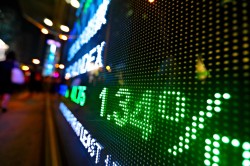 Wall Street analysts expect Rexahn Pharmaceuticals, Inc. (NASDAQ:RNN) to announce earnings of ($0.17) per share for the current fiscal quarter, according to Zacks. Zero analysts have provided estimates for Rexahn Pharmaceuticals' earnings. The lowest EPS estimate is ($0.20) and the highest is ($0.15). Rexahn Pharmaceuticals reported earnings per share of ($0.15) during the same quarter last year, which would suggest a negative year-over-year growth rate of 13.3%. The company is expected to issue its next earnings results on Monday, November 5th.
According to Zacks, analysts expect that Rexahn Pharmaceuticals will report full-year earnings of ($0.59) per share for the current financial year, with EPS estimates ranging from ($0.65) to ($0.49). For the next financial year, analysts expect that the company will post earnings of ($0.58) per share, with EPS estimates ranging from ($0.62) to ($0.53). Zacks Investment Research's EPS calculations are a mean average based on a survey of research firms that cover Rexahn Pharmaceuticals.
Rexahn Pharmaceuticals (NASDAQ:RNN) last announced its quarterly earnings data on Monday, August 6th. The company reported ($0.15) earnings per share for the quarter, beating analysts' consensus estimates of ($0.18) by $0.03.
A number of research analysts have recently weighed in on RNN shares. B. Riley reissued a "buy" rating on shares of Rexahn Pharmaceuticals in a report on Tuesday, July 31st. Ifs Securities raised Rexahn Pharmaceuticals from an "outperform" rating to a "strong-buy" rating in a report on Thursday, October 4th.
Shares of RNN stock traded up $0.06 during mid-day trading on Friday, reaching $1.16. The stock had a trading volume of 458,384 shares, compared to its average volume of 274,893. Rexahn Pharmaceuticals has a 1-year low of $1.03 and a 1-year high of $2.70.
About Rexahn Pharmaceuticals
Rexahn Pharmaceuticals, Inc, a clinical stage biopharmaceutical company, discovers, develops, and commercializes treatments for cancer. The company's clinical stage drug candidates include RX-3117, which is in Phase II a clinical trial for the treatment of patients with relapsed or refractory pancreatic cancer and advanced bladder cancer; and Supinoxin that is in Phase II a clinical study to treat patients with metastatic triple negative breast cancer.
See Also: What is the Book Value of a Share?

Get a free copy of the Zacks research report on Rexahn Pharmaceuticals (RNN)
For more information about research offerings from Zacks Investment Research, visit Zacks.com
Receive News & Ratings for Rexahn Pharmaceuticals Daily - Enter your email address below to receive a concise daily summary of the latest news and analysts' ratings for Rexahn Pharmaceuticals and related companies with MarketBeat.com's FREE daily email newsletter.