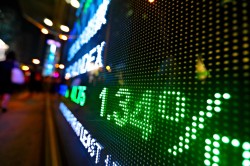 Shares of Economic Investment Trust Limited (TSE:EVT) reached a new 52-week low on Friday . The company traded as low as C$110.00 and last traded at C$110.00, with a volume of 500 shares traded. The stock had previously closed at C$112.00.
Economic Investment Trust (TSE:EVT) last posted its quarterly earnings data on Wednesday, August 8th. The company reported C$0.70 earnings per share for the quarter. Economic Investment Trust had a net margin of 84.58% and a return on equity of 12.33%. The company had revenue of C$15.33 million for the quarter.
The company also recently disclosed a quarterly dividend, which was paid on Friday, September 28th. Investors of record on Friday, September 14th were given a $0.30 dividend. This represents a $1.20 dividend on an annualized basis and a yield of 1.09%. The ex-dividend date was Thursday, September 13th.
About Economic Investment Trust
(
TSE:EVT
)
Economic Investment Trust Limited is a closed-end investment company. The Company is an investment vehicle for long-term growth through investments in common equities. Its objective is to earn an above-average rate of return, primarily through long-term capital appreciation and dividend income. Its investment portfolio consists of a mix of Canadian and foreign investments.
Recommended Story: Insider Trading
Receive News & Ratings for Economic Investment Trust Daily - Enter your email address below to receive a concise daily summary of the latest news and analysts' ratings for Economic Investment Trust and related companies with MarketBeat.com's FREE daily email newsletter.