Orchid Island Capital (NYSE:ORC) posted its quarterly earnings data on Friday. The real estate investment trust reported ($0.06) earnings per share for the quarter, missing the consensus estimate of $0.36 by ($0.42), Fidelity Earnings reports.
ORC stock opened at $6.59 on Friday. The firm has a market cap of $342.91 million, a price-to-earnings ratio of 7.85 and a beta of 0.32. Orchid Island Capital has a fifty-two week low of $6.31 and a fifty-two week high of $10.38.
The company also recently disclosed a monthly dividend, which will be paid on Friday, November 9th. Shareholders of record on Wednesday, October 31st will be given a dividend of $0.08 per share. This represents a $0.96 annualized dividend and a yield of 14.57%. The ex-dividend date of this dividend is Tuesday, October 30th. Orchid Island Capital's payout ratio is 114.29%.
Several research firms have weighed in on ORC.
ValuEngine
upgraded Orchid Island Capital from a "strong sell" rating to a "sell" rating in a research report on Thursday, September 6th.
Zacks Investment Research
cut Orchid Island Capital from a "buy" rating to a "hold" rating in a research report on Tuesday, July 3rd. Finally, LADENBURG THALM/SH SH cut Orchid Island Capital from a "buy" rating to a "neutral" rating in a research report on Friday.
An institutional investor recently raised its position in Orchid Island Capital stock. Bank of New York Mellon Corp lifted its stake in shares of Orchid Island Capital Inc (NYSE:ORC) by 5.0% during the 2nd quarter, according to the company in its most recent 13F filing with the SEC. The institutional investor owned 202,006 shares of the real estate investment trust's stock after purchasing an additional 9,615 shares during the quarter. Bank of New York Mellon Corp owned 0.39% of Orchid Island Capital worth $1,519,000 as of its most recent SEC filing. Institutional investors own 33.08% of the company's stock.
Orchid Island Capital Company Profile
Orchid Island Capital, Inc, a specialty finance company, invests in residential mortgage-backed securities (RMBS) in the United States. The company's RMBS are backed primarily by single-family residential mortgage loans, referred as Agency RMBS. Its portfolio includes traditional pass-through Agency RMBS; and structured Agency RMBS, including collateralized mortgage obligations, interest only securities, inverse interest only securities, and principal only securities.
Further Reading: Marijuana Stocks Future Looks Bright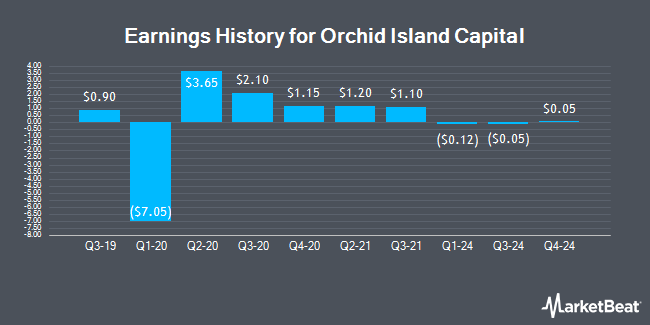 Receive News & Ratings for Orchid Island Capital Daily - Enter your email address below to receive a concise daily summary of the latest news and analysts' ratings for Orchid Island Capital and related companies with MarketBeat.com's FREE daily email newsletter.