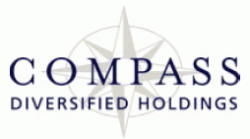 Compass Diversified (NYSE:CODI) is set to release its earnings data after the market closes on Wednesday, October 31st. Analysts expect Compass Diversified to post earnings of $0.54 per share for the quarter.
Compass Diversified (NYSE:CODI) last issued its earnings results on Wednesday, August 1st. The financial services provider reported ($0.12) EPS for the quarter, missing the Zacks' consensus estimate of $0.45 by ($0.57). Compass Diversified had a net margin of 3.45% and a return on equity of 2.47%. The company had revenue of $429.76 million during the quarter, compared to analyst estimates of $400.86 million. On average, analysts expect Compass Diversified to post $2 EPS for the current fiscal year and $2 EPS for the next fiscal year.
Shares of CODI stock opened at $16.17 on Monday. The company has a debt-to-equity ratio of 1.24, a current ratio of 2.68 and a quick ratio of 1.44. Compass Diversified has a 52 week low of $14.60 and a 52 week high of $18.35. The company has a market capitalization of $968.58 million, a price-to-earnings ratio of 28.37 and a beta of 0.48.
The business also recently announced a quarterly dividend, which was paid on Thursday, October 25th. Shareholders of record on Thursday, October 18th were paid a $0.36 dividend. The ex-dividend date was Wednesday, October 17th. This represents a $1.44 dividend on an annualized basis and a yield of 8.91%.
Separately, Zacks Investment Research raised Compass Diversified from a "strong sell" rating to a "hold" rating in a report on Monday, October 15th.
About Compass Diversified
Compass Diversified Holdings LLC is a private equity firm specializing in acquisitions, buyouts, industry consolidation, recapitalization, and middle market investments. It seeks to invest in niche industrial or branded consumer companies, manufacturing, distribution, consumer products, business services sector, safety & security, electronic components, food, foodservice.
Further Reading: Stop Order
Receive News & Ratings for Compass Diversified Daily - Enter your email address below to receive a concise daily summary of the latest news and analysts' ratings for Compass Diversified and related companies with MarketBeat.com's FREE daily email newsletter.