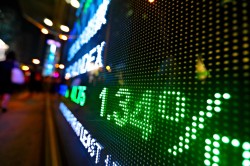 Eqtec Plc (LON:EQT) insider Tom Quigley acquired 193,548 shares of the stock in a transaction dated Friday, October 26th. The stock was bought at an average price of GBX 1 ($0.01) per share, for a total transaction of £1,935.48 ($2,529.05).
EQT stock opened at GBX 1 ($0.01) on Monday. Eqtec Plc has a twelve month low of GBX 0.60 ($0.01) and a twelve month high of GBX 6.80 ($0.09).
Several equities research analysts have recently weighed in on EQT shares. Northland Capital Partners reiterated a "corporate" rating on shares of Eqtec in a research note on Thursday, September 27th. Liberum Capital restated a "buy" rating and set a GBX 320 ($4.18) price target on shares of Eqtec in a research report on Friday, July 27th.
Eqtec Company Profile
EQTEC plc converts biomass and waste into synthetic gas to generate electricity and heat in the United Kingdom. It engages in sourcing and providing assistance in developing waste elimination projects, as well as O&M services. The company was formerly known as REACT Energy plc and changed its name to EQTEC plc in February 2017.
Featured Story: Bull Market
Receive News & Ratings for Eqtec Daily - Enter your email address below to receive a concise daily summary of the latest news and analysts' ratings for Eqtec and related companies with MarketBeat.com's FREE daily email newsletter.