Legg Mason Inc (NYSE:LM) announced a quarterly dividend on Monday, October 29th, RTT News reports. Investors of record on Wednesday, December 19th will be paid a dividend of 0.34 per share by the asset manager on Monday, January 14th. This represents a $1.36 dividend on an annualized basis and a yield of 4.99%.
Legg Mason has increased its dividend by an average of 19.9% annually over the last three years and has increased its dividend every year for the last 8 years. Legg Mason has a dividend payout ratio of 39.3% indicating that its dividend is sufficiently covered by earnings. Equities analysts expect Legg Mason to earn $3.52 per share next year, which means the company should continue to be able to cover its $1.36 annual dividend with an expected future payout ratio of 38.6%.
LM traded up $0.04 during trading on Monday, reaching $27.25. The company had a trading volume of 858,376 shares, compared to its average volume of 982,093. The company has a market cap of $2.33 billion, a PE ratio of 7.33, a P/E/G ratio of 0.47 and a beta of 1.88. Legg Mason has a 52 week low of $26.10 and a 52 week high of $47.13. The company has a quick ratio of 1.64, a current ratio of 2.41 and a debt-to-equity ratio of 0.58.
Legg Mason (NYSE:LM) last released its earnings results on Wednesday, October 24th. The asset manager reported $0.82 earnings per share for the quarter, missing analysts' consensus estimates of $0.83 by ($0.01). Legg Mason had a return on equity of 8.07% and a net margin of 11.81%. The business had revenue of $758.43 million during the quarter, compared to analysts' expectations of $755.29 million. As a group, research analysts anticipate that Legg Mason will post 3.28 earnings per share for the current fiscal year.
In other news, insider Frances Cashman sold 10,058 shares of the firm's stock in a transaction on Monday, September 24th. The stock was sold at an average price of $31.61, for a total transaction of $317,933.38. Following the transaction, the insider now owns 72,937 shares in the company, valued at $2,305,538.57. The sale was disclosed in a legal filing with the SEC, which is accessible through this link. Company insiders own 4.33% of the company's stock.
A number of analysts have weighed in on the company. Keefe, Bruyette & Woods reiterated a "buy" rating and issued a $33.00 target price on shares of Legg Mason in a research note on Monday. Wells Fargo & Co reduced their target price on Legg Mason from $39.00 to $34.00 and set an "outperform" rating on the stock in a research note on Thursday. Royal Bank of Canada reiterated a "buy" rating and issued a $37.00 target price on shares of Legg Mason in a research note on Thursday. Jefferies Financial Group reiterated a "hold" rating and issued a $39.00 target price on shares of Legg Mason in a research note on Thursday, October 11th. Finally, Morgan Stanley increased their target price on Legg Mason from $31.00 to $32.00 and gave the stock a "sell" rating in a research note on Tuesday, October 9th. Four analysts have rated the stock with a sell rating, four have assigned a hold rating and four have issued a buy rating to the stock. The company presently has a consensus rating of "Hold" and a consensus target price of $41.55.
About Legg Mason
Legg Mason, Inc is a publicly owned asset management holding company. Through its subsidiaries, the firm provides investment management and related services to company-sponsored mutual funds and other investment vehicles including pension funds, foundations, endowments, sovereign wealth funds, insurance companies, private banks, family offices, individuals, as well as to global, institutional, and retail clients.
Featured Article: Cash Flow Analysis in Stock Selection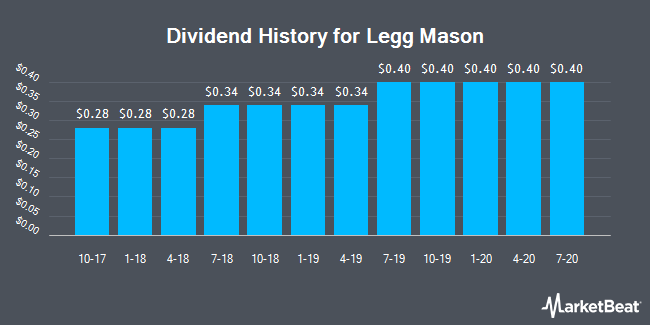 Receive News & Ratings for Legg Mason Daily - Enter your email address below to receive a concise daily summary of the latest news and analysts' ratings for Legg Mason and related companies with MarketBeat.com's FREE daily email newsletter.