Manning and Napier (NYSE:MN) is set to announce its earnings results after the market closes on Tuesday, October 30th. Analysts expect the company to announce earnings of $0.04 per share for the quarter.
Manning and Napier (NYSE:MN) last announced its quarterly earnings results on Tuesday, July 31st. The asset manager reported $0.06 EPS for the quarter, hitting the Thomson Reuters' consensus estimate of $0.06. The business had revenue of $41.12 million for the quarter, compared to analyst estimates of $40.52 million. Manning and Napier had a return on equity of 15.05% and a net margin of 1.12%. On average, analysts expect Manning and Napier to post $0 EPS for the current fiscal year and $0 EPS for the next fiscal year.
Shares of NYSE:MN opened at $1.78 on Monday. Manning and Napier has a 12 month low of $1.67 and a 12 month high of $4.35. The company has a market cap of $27.29 million, a PE ratio of 4.45 and a beta of 1.20.
The business also recently announced a quarterly dividend, which will be paid on Friday, February 1st. Investors of record on Tuesday, January 15th will be paid a $0.02 dividend. This represents a $0.08 dividend on an annualized basis and a yield of 4.49%. The ex-dividend date of this dividend is Monday, January 14th. Manning and Napier's payout ratio is currently 80.00%.
A number of research firms recently issued reports on MN. ValuEngine lowered Manning and Napier from a "hold" rating to a "sell" rating in a research note on Tuesday, October 23rd. Zacks Investment Research raised Manning and Napier from a "hold" rating to a "buy" rating and set a $2.75 target price on the stock in a research note on Friday, October 19th.
Manning and Napier Company Profile
Manning & Napier, Inc is publicly owned investment manager. It provides its services to net worth individuals and institutions, including 401(k) plans, pension plans, taft-hartley plans, endowments and foundations. The firm manages separate client-focused equity and fixed income portfolios. It invests in the public equity and fixed income markets of the United States.
Read More: Earnings Per Share (EPS) Explained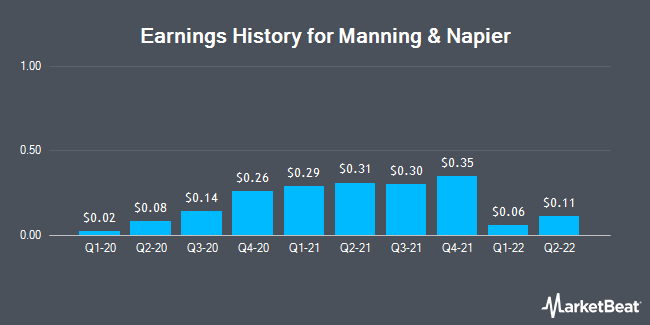 Receive News & Ratings for Manning and Napier Daily - Enter your email address below to receive a concise daily summary of the latest news and analysts' ratings for Manning and Napier and related companies with MarketBeat.com's FREE daily email newsletter.