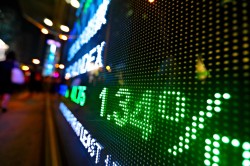 Goldman Sachs Group began coverage on shares of Elastic (NYSE:ESTC) in a research report issued on Tuesday, The Fly reports. The brokerage set a "buy" rating on the stock.
Separately, Jefferies Financial Group initiated coverage on shares of Elastic in a research report on Tuesday. They set a "hold" rating for the company.
Elastic stock opened at $62.44 on Tuesday. Elastic has a fifty-two week low of $58.55 and a fifty-two week high of $74.20.
About Elastic
Elastic N.V. develops and delivers technology that enables users to search structured and unstructured data for a range of consumer and enterprise applications. It primarily provides Elastic Stack, a set of software products that ingest and store data from various sources and formats, as well as performs search, analysis, and visualization.
Further Reading: Leveraged Buyout (LBO)

Receive News & Ratings for Elastic Daily - Enter your email address below to receive a concise daily summary of the latest news and analysts' ratings for Elastic and related companies with MarketBeat.com's FREE daily email newsletter.