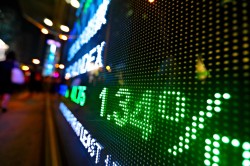 Oppenheimer & Co. Inc. raised its position in ProShares Short Russell2000 (NYSEARCA:RWM) by 902.7% during the 3rd quarter, according to its most recent disclosure with the SEC. The fund owned 98,656 shares of the company's stock after purchasing an additional 88,817 shares during the period. Oppenheimer & Co. Inc.'s holdings in ProShares Short Russell2000 were worth $3,720,000 at the end of the most recent reporting period.
Separately, Millennium Management LLC grew its holdings in ProShares Short Russell2000 by 9.0% in the first quarter. Millennium Management LLC now owns 23,763 shares of the company's stock valued at $1,001,000 after purchasing an additional 1,968 shares during the last quarter.
RWM opened at $43.17 on Tuesday. ProShares Short Russell2000 has a 52 week low of $36.82 and a 52 week high of $45.09.
The business also recently disclosed a quarterly dividend, which was paid on Wednesday, October 3rd. Investors of record on Thursday, September 27th were paid a dividend of $0.1401 per share. The ex-dividend date was Wednesday, September 26th. This represents a $0.56 dividend on an annualized basis and a dividend yield of 1.30%. This is a positive change from ProShares Short Russell2000's previous quarterly dividend of $0.04.
About ProShares Short Russell2000
ProShares Short Russell2000 (the Fund) seeks daily investment results that correspond to the inverse (opposite) of the daily performance of the Russell 2000 Index (the Index). The Fund intends to invest at least 80% of its net assets, including any borrowings for investment purposes, to investments that, in combination, have economic characteristics that are inverse to those of the Index.
Featured Article: Marijuana Stocks
Want to see what other hedge funds are holding RWM? Visit HoldingsChannel.com to get the latest 13F filings and insider trades for ProShares Short Russell2000 (NYSEARCA:RWM).
Receive News & Ratings for ProShares Short Russell2000 Daily - Enter your email address below to receive a concise daily summary of the latest news and analysts' ratings for ProShares Short Russell2000 and related companies with MarketBeat.com's FREE daily email newsletter.