PrairieSky Royalty (TSE:PSK) had its price target cut by investment analysts at Macquarie from C$26.00 to C$25.00 in a report released on Tuesday. Macquarie's target price would suggest a potential upside of 22.49% from the stock's previous close.
Several other equities analysts have also recently weighed in on the company. Canaccord Genuity dropped their price objective on PrairieSky Royalty from C$29.00 to C$26.00 in a report on Tuesday, October 16th. CIBC decreased their price target on PrairieSky Royalty from C$32.00 to C$30.00 in a research note on Friday, October 5th. Raymond James decreased their price target on PrairieSky Royalty from C$28.50 to C$28.00 in a research note on Friday, October 5th. Finally, National Bank Financial upgraded PrairieSky Royalty from a "sector perform overweight" rating to an "outperform overweight" rating and lifted their price target for the company from C$30.00 to C$31.00 in a research note on Wednesday, July 18th. Three research analysts have rated the stock with a hold rating and four have issued a buy rating to the company's stock. The stock currently has a consensus rating of "Buy" and a consensus target price of C$31.20.
TSE PSK traded down C$0.59 during midday trading on Tuesday, hitting C$20.41. The company had a trading volume of 814,075 shares, compared to its average volume of 475,975. PrairieSky Royalty has a twelve month low of C$19.42 and a twelve month high of C$35.90.
PrairieSky Royalty Company Profile
PrairieSky Royalty Ltd. engages in crude oil and natural gas businesses in Canada. The company holds royalty interests in properties located in Alberta, Saskatchewan, British Columbia, and Manitoba. It hold interests in approximately 7.8 million acres with petroleum and/or natural gas rights; 1.1 million acres with coal; and 7.5 million acres of GORR Lands.
Further Reading: What is the 52-week high/low?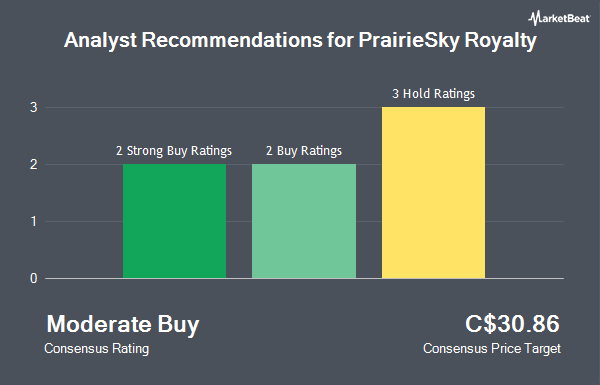 Receive News & Ratings for PrairieSky Royalty Daily - Enter your email address below to receive a concise daily summary of the latest news and analysts' ratings for PrairieSky Royalty and related companies with MarketBeat.com's FREE daily email newsletter.