William Lyon Homes (NYSE:WLH) released its quarterly earnings results on Tuesday. The construction company reported $0.68 EPS for the quarter, topping the consensus estimate of $0.66 by $0.02, MarketWatch Earnings reports. The company had revenue of $534.70 million for the quarter, compared to analyst estimates of $568.84 million. William Lyon Homes had a return on equity of 10.93% and a net margin of 3.48%. The firm's revenue was up 9.0% compared to the same quarter last year. During the same quarter in the previous year, the company posted $0.71 earnings per share.
Shares of NYSE:WLH traded up $0.55 during trading on Tuesday, reaching $13.60. The company had a trading volume of 35,527 shares, compared to its average volume of 803,451. The firm has a market cap of $524.45 million, a P/E ratio of 6.05 and a beta of 1.54. The company has a current ratio of 5.77, a quick ratio of 0.15 and a debt-to-equity ratio of 1.47. William Lyon Homes has a fifty-two week low of $12.47 and a fifty-two week high of $32.95.
Several research firms have commented on WLH. Wedbush set a $35.00 price target on William Lyon Homes and gave the stock an "outperform" rating in a research report on Tuesday, July 10th. Zacks Investment Research raised William Lyon Homes from a "sell" rating to a "hold" rating in a report on Wednesday, August 8th. ValuEngine lowered William Lyon Homes from a "sell" rating to a "strong sell" rating in a report on Thursday, August 2nd. Finally, Citigroup dropped their target price on William Lyon Homes from $27.00 to $23.00 and set a "neutral" rating on the stock in a report on Thursday, August 2nd. Two investment analysts have rated the stock with a sell rating and three have issued a hold rating to the stock. William Lyon Homes presently has an average rating of "Hold" and an average target price of $27.25.
William Lyon Homes Company Profile
William Lyon Homes, together with its subsidiaries, designs, constructs, markets, and sells single-family detached and attached homes in California, Arizona, Nevada, Colorado, Washington, and Oregon. It sells its homes primarily to entry-level, and first-time and second-time move-up homebuyers, as well as to luxury home and active adult markets under the Village Homes and Polygon Northwest Homes brands through in-house commissioned sales personnel and outside brokers.
Further Reading: Understanding the different types of bonds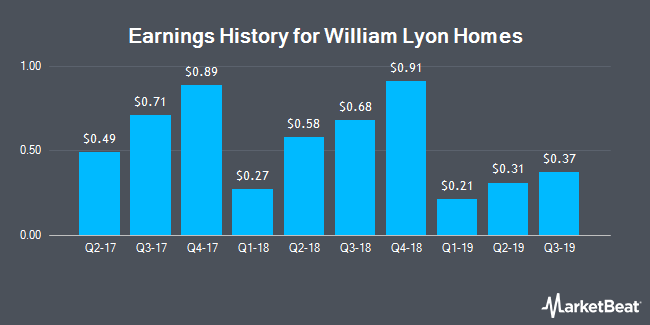 Receive News & Ratings for William Lyon Homes Daily - Enter your email address below to receive a concise daily summary of the latest news and analysts' ratings for William Lyon Homes and related companies with MarketBeat.com's FREE daily email newsletter.