Edison International (NYSE:EIX) announced its quarterly earnings results on Tuesday. The utilities provider reported $1.56 earnings per share (EPS) for the quarter, topping the consensus estimate of $1.31 by $0.25, Fidelity Earnings reports. The business had revenue of $4.27 billion for the quarter, compared to analyst estimates of $3.47 billion. Edison International had a return on equity of 10.27% and a net margin of 4.34%. The company's quarterly revenue was up 16.3% on a year-over-year basis. During the same quarter in the prior year, the company earned $1.43 earnings per share.
Shares of EIX stock traded down $1.92 during trading hours on Wednesday, reaching $67.61. The company had a trading volume of 447,571 shares, compared to its average volume of 1,970,952. Edison International has a 12 month low of $57.63 and a 12 month high of $83.38. The company has a quick ratio of 0.61, a current ratio of 0.66 and a debt-to-equity ratio of 0.99. The firm has a market capitalization of $22.21 billion, a PE ratio of 15.02, a P/E/G ratio of 2.85 and a beta of 0.08.
The business also recently announced a quarterly dividend, which will be paid on Wednesday, October 31st. Stockholders of record on Friday, September 28th will be issued a $0.605 dividend. The ex-dividend date is Thursday, September 27th. This represents a $2.42 dividend on an annualized basis and a dividend yield of 3.58%. Edison International's dividend payout ratio is presently 53.78%.
EIX has been the topic of several recent research reports. TheStreet upgraded Edison International from a "c" rating to a "b-" rating in a report on Thursday, July 5th. Citigroup cut their price target on Edison International from $72.00 to $65.00 and set a "hold" rating on the stock in a report on Monday, July 9th. Argus increased their price target on Edison International to $75.00 and gave the stock a "buy" rating in a report on Monday, July 9th. Barclays started coverage on Edison International in a report on Tuesday, July 10th. They issued an "equal weight" rating and a $73.00 price target on the stock. Finally,
Zacks Investment Research
upgraded Edison International from a "sell" rating to a "hold" rating and set a $74.00 target price on the stock in a report on Tuesday, July 10th. Twelve research analysts have rated the stock with a hold rating and five have given a buy rating to the company. The stock presently has an average rating of "Hold" and an average price target of $73.92.
About Edison International
Edison International, through its subsidiaries, engages in the generation, transmission, and distribution of electricity in the United States. It generates electricity through hydroelectric, diesel/liquid petroleum gas, natural gas, nuclear, and photovoltaic sources. The company supplies electricity primarily to residential, commercial, industrial, agricultural, and other customers, as well as public authorities through transmission and distribution networks.
Featured Story: Bear Market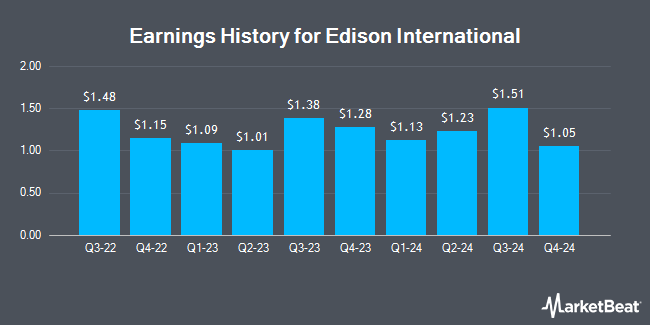 Receive News & Ratings for Edison International Daily - Enter your email address below to receive a concise daily summary of the latest news and analysts' ratings for Edison International and related companies with MarketBeat.com's FREE daily email newsletter.