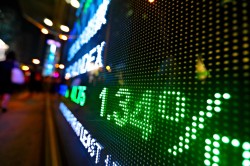 Jefferies Financial Group started coverage on shares of Elastic (NYSE:ESTC) in a research report released on Tuesday, MarketBeat.com reports. The brokerage issued a hold rating and a $65.00 price target on the stock.
Shares of NYSE:ESTC traded up $1.27 during midday trading on Tuesday, reaching $69.25. 57,432 shares of the company's stock were exchanged, compared to its average volume of 302,139. Elastic has a 12 month low of $58.55 and a 12 month high of $74.20.
Elastic Company Profile
Elastic N.V. develops and delivers technology that enables users to search structured and unstructured data for a range of consumer and enterprise applications. It primarily provides Elastic Stack, a set of software products that ingest and store data from various sources and formats, as well as performs search, analysis, and visualization.
Read More: What is Liquidity?
Receive News & Ratings for Elastic Daily - Enter your email address below to receive a concise daily summary of the latest news and analysts' ratings for Elastic and related companies with MarketBeat.com's FREE daily email newsletter.