Genworth MI Canada (TSE:MIC) was upgraded by research analysts at TD Securities from a "hold" rating to a "buy" rating in a research note issued on Wednesday. The firm presently has a C$43.00 price target on the stock, down from their previous price target of C$47.00. TD Securities' price objective would suggest a potential downside of 0.60% from the company's previous close.
A number of other equities research analysts also recently weighed in on MIC. BMO Capital Markets upped their price target on shares of Genworth MI Canada from C$50.00 to C$51.00 in a report on Thursday, August 2nd. CIBC cut their price target on shares of Genworth MI Canada from C$48.50 to C$45.00 in a report on Tuesday, October 23rd. Finally, National Bank Financial upped their price target on shares of Genworth MI Canada from C$50.00 to C$51.00 and gave the company a "c$45.25" rating in a report on Monday, July 23rd. Three equities research analysts have rated the stock with a hold rating and two have given a buy rating to the company. The company presently has an average rating of "Hold" and an average target price of C$46.83.
TSE MIC traded up C$3.36 on Wednesday, reaching C$43.26. The company's stock had a trading volume of 681,459 shares, compared to its average volume of 179,085. Genworth MI Canada has a twelve month low of C$38.00 and a twelve month high of C$46.75.
Genworth MI Canada (TSE:MIC) last issued its quarterly earnings results on Tuesday, July 31st. The company reported C$1.31 earnings per share for the quarter, beating the Zacks' consensus estimate of C$1.21 by C$0.10. Genworth MI Canada had a net margin of 70.53% and a return on equity of 13.53%. The company had revenue of C$171.27 million during the quarter, compared to the consensus estimate of C$172.00 million.
In other Genworth MI Canada news, Director Cecilia Carbonelli sold 2,529 shares of the company's stock in a transaction dated Thursday, August 9th. The shares were sold at an average price of C$43.75, for a total value of C$110,643.75.
Genworth MI Canada Company Profile
See Also: Google Finance Portfolio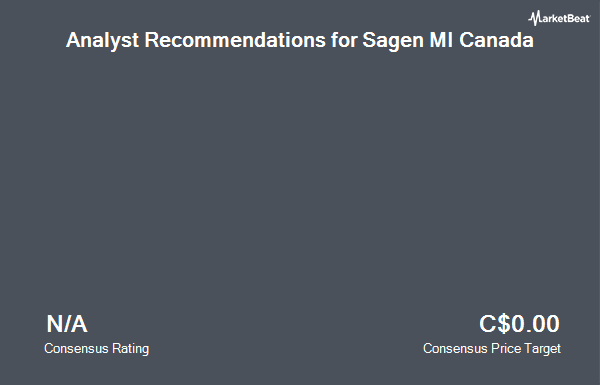 Receive News & Ratings for Genworth MI Canada Daily - Enter your email address below to receive a concise daily summary of the latest news and analysts' ratings for Genworth MI Canada and related companies with MarketBeat.com's FREE daily email newsletter.