NCR (NYSE:NCR) issued its quarterly earnings results on Tuesday. The information technology services provider reported $0.58 earnings per share (EPS) for the quarter, beating the Thomson Reuters' consensus estimate of $0.54 by $0.04, RTT News reports. The company had revenue of $1.55 billion for the quarter, compared to the consensus estimate of $1.58 billion. NCR had a positive return on equity of 73.82% and a negative net margin of 0.80%. The firm's revenue was down 6.8% compared to the same quarter last year. During the same period last year, the business posted $0.93 earnings per share. NCR updated its FY 2018 guidance to $2.55-2.75 EPS and its FY18 guidance to $2.55-$2.74 EPS.
NCR stock traded up $0.01 during trading on Tuesday, reaching $23.82. 2,745,846 shares of the stock were exchanged, compared to its average volume of 1,145,299. NCR has a twelve month low of $23.41 and a twelve month high of $38.68. The company has a market cap of $2.86 billion, a PE ratio of 7.44, a price-to-earnings-growth ratio of 2.33 and a beta of 1.77. The company has a quick ratio of 1.01, a current ratio of 1.46 and a debt-to-equity ratio of 7.89.
Several equities research analysts have recently issued reports on the company. Oppenheimer downgraded NCR from an "outperform" rating to a "market perform" rating and set a $37.00 price target on the stock. in a research report on Friday, July 27th. UBS Group downgraded NCR from an "outperform" rating to a "market perform" rating in a research report on Friday, July 27th. Zacks Investment Research raised NCR from a "sell" rating to a "hold" rating in a research report on Tuesday, July 24th. Benchmark reaffirmed a "buy" rating and issued a $44.00 price target on shares of NCR in a research report on Wednesday, July 25th. Finally, ValuEngine raised NCR from a "strong sell" rating to a "sell" rating in a research report on Wednesday, August 8th. Two analysts have rated the stock with a sell rating, four have given a hold rating and two have assigned a buy rating to the stock. The stock has a consensus rating of "Hold" and an average target price of $37.80.
NCR announced that its board has authorized a share repurchase program on Thursday, July 26th that permits the company to buyback $200.00 million in outstanding shares. This buyback authorization permits the information technology services provider to repurchase up to 6% of its shares through open market purchases. Shares buyback programs are typically an indication that the company's leadership believes its shares are undervalued.
About NCR
NCR Corporation provides omni-channel technology solutions for businesses to connect, interact, and transact with their customers worldwide. The company's Software segment offers industry-based software platforms and applications and application suites for the financial services, retail, hospitality, and small business industries; and cash management software, video banking software, fraud and loss prevention, check and document imaging, remote-deposit capture, and customer-facing mobile and digital banking applications for the financial services industry.
Recommended Story: Retained Earnings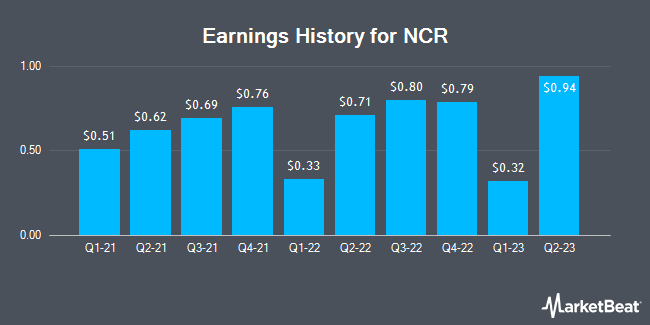 Receive News & Ratings for NCR Daily - Enter your email address below to receive a concise daily summary of the latest news and analysts' ratings for NCR and related companies with MarketBeat.com's FREE daily email newsletter.