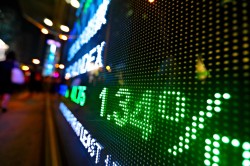 Shares of PARINGA RESOURC/S (NASDAQ:PNRL) hit a new 52-week low during mid-day trading on Wednesday . The stock traded as low as $7.48 and last traded at $7.48, with a volume of 350 shares changing hands. The stock had previously closed at $10.38.
Separately, HC Wainwright set a $30.00 price target on PARINGA RESOURC/S and gave the company a "buy" rating in a report on Wednesday, October 17th.
PARINGA RESOURC/S Company Profile (NASDAQ:PNRL)
Paringa Resources Limited, together with its subsidiaries, engages in the exploration and development of resource projects. The company holds interests in the Buck Creek coal mines complex, which include the Poplar Grove Mine and the Cypress Mine located in the Illinois coal basin in western Kentucky.
Featured Story: What is the Rule of 72?
Receive News & Ratings for PARINGA RESOURC/S Daily - Enter your email address below to receive a concise daily summary of the latest news and analysts' ratings for PARINGA RESOURC/S and related companies with MarketBeat.com's FREE daily email newsletter.