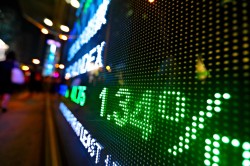 TLOU Energy Ltd (LON:TLOU) shares hit a new 52-week low during mid-day trading on Monday . The company traded as low as GBX 5.15 ($0.07) and last traded at GBX 5.25 ($0.07), with a volume of 295869 shares changing hands. The stock had previously closed at GBX 5.65 ($0.07).
TLOU Energy Company Profile (LON:TLOU)
Tlou Energy Limited identifies, explores, evaluates, and develops coalbed methane (CBM) resources in Southern Africa. It holds one mining license and nine prospecting licenses covering an area of approximately 8,300 square kilometers in the Karoo Basin, Botswana. The company owns a 100% interest in the Lesedi CBM project.
Further Reading: What is a Leveraged Buyout (LBO)?

Receive News & Ratings for TLOU Energy Daily - Enter your email address below to receive a concise daily summary of the latest news and analysts' ratings for TLOU Energy and related companies with MarketBeat.com's FREE daily email newsletter.