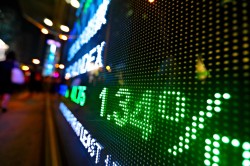 Sangoma Technologies Co. (CVE:STC) – Equities researchers at Beacon Securities issued their Q1 2019 earnings per share (EPS) estimates for Sangoma Technologies in a research report issued on Monday, October 29th. Beacon Securities analyst G. Leung expects that the company will post earnings per share of $0.02 for the quarter. Beacon Securities also issued estimates for Sangoma Technologies' Q2 2019 earnings at $0.02 EPS, Q3 2019 earnings at $0.03 EPS, Q4 2019 earnings at $0.04 EPS, FY2019 earnings at $0.10 EPS and FY2020 earnings at $0.15 EPS.
Separately, Cormark boosted their target price on shares of Sangoma Technologies from C$1.75 to C$2.25 and gave the company a "buy" rating in a report on Monday, August 27th.
STC
opened at C$1.33 on Wednesday. Sangoma Technologies has a twelve month low of C$0.68 and a twelve month high of C$1.44.
Sangoma Technologies Company Profile
Sangoma Technologies Corporation develops, manufactures, distributes, and supports voice and data connectivity components for software-based communication applications worldwide. It offers session border controllers that protect data and voice network; IP phones and desktop and softphone integration products; analog, digital, and Voice over IP gateways; and telephony cards, such as analog, digital, hybrid, and digital BRI voice cards, as well as transcoding cards.
Featured Article: What Does Beta Mean In Stock Selection Receive News & Ratings for Sangoma Technologies Daily - Enter your email address below to receive a concise daily summary of the latest news and analysts' ratings for Sangoma Technologies and related companies with MarketBeat.com's FREE daily email newsletter.