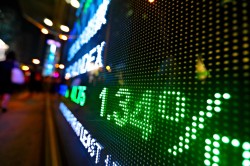 Pyxus International Inc (NYSE:PYX) was the target of a significant growth in short interest in October. As of October 15th, there was short interest totalling 1,700,785 shares, a growth of 77.4% from the September 28th total of 958,952 shares. Based on an average daily volume of 6,267,472 shares, the short-interest ratio is currently 0.3 days. Currently, 19.9% of the shares of the stock are short sold.
An institutional investor recently bought a new position in Pyxus International stock. Acadian Asset Management LLC bought a new position in shares of Pyxus International Inc (NYSE:PYX) in the third quarter, according to the company in its most recent Form 13F filing with the Securities and Exchange Commission (SEC). The fund bought 30,255 shares of the company's stock, valued at approximately $696,000. Acadian Asset Management LLC owned approximately 0.33% of Pyxus International as of its most recent SEC filing. Institutional investors own 67.33% of the company's stock.
PYX stock opened at $23.74 on Thursday. The stock has a market cap of $230.53 million, a PE ratio of 18.52 and a beta of 0.37. The company has a debt-to-equity ratio of 3.24, a current ratio of 1.82 and a quick ratio of 0.70. Pyxus International has a 52 week low of $10.55 and a 52 week high of $52.43.
Pyxus International (NYSE:PYX) last released its earnings results on Thursday, August 2nd. The company reported ($0.08) EPS for the quarter. The company had revenue of $290.99 million for the quarter. Pyxus International had a return on equity of 4.29% and a net margin of 4.53%.
A number of research firms have recently commented on PYX. Cann reissued a "buy" rating on shares of Pyxus International in a research note on Thursday, October 11th. They noted that the move was a valuation call. TheStreet raised shares of Pyxus International from a "d+" rating to a "c" rating in a research note on Wednesday, September 12th.
Pyxus International Company Profile
Pyxus International, Inc, an agricultural company, engages in the provision of various agricultural products, ingredients, and services to businesses and customers. It offers products in the leaf tobacco, e-liquids, industrial hemp, and cannabis industries. The company was formerly known as Alliance One International, Inc and changed its name to Pyxus International, Inc in September 2018.
Featured Article: What are the Different Types of Leveraged Buyouts?
Receive News & Ratings for Pyxus International Daily - Enter your email address below to receive a concise daily summary of the latest news and analysts' ratings for Pyxus International and related companies with MarketBeat.com's FREE daily email newsletter.