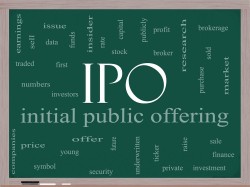 Eton Pharmaceuticals (ETON) expects to raise $22 million in an initial public offering (IPO) on Wednesday, November 14th, IPO Scoop reports. The company will be issuing 3,600,000 shares at $6.00 per share.
The company has a market cap of $101.4 million.
National Securities Corporation acted as the underwriter for the IPO.
Eton Pharmaceuticals provided the following description of their company for its IPO: " Eton Pharmaceuticals, Inc. is a specialty pharmaceutical company focused on developing and commercializing innovative pharmaceutical products utilizing the FDA's 505(b)(2) regulatory pathway. Our business model is to develop proprietary innovative products that fulfill an unmet patient need. We have established a diversified pipeline of eight product candidates in various stages of development. Our corporate strategy is to pursue what we perceive to be low-risk 505(b)(2) candidates where existing published literature, historical clinical trials, or physician usage has established safety or efficacy of the molecule, thereby reducing the incremental clinical burden required for us to bring the product to patients. We intend to focus on product candidates that are currently unapproved or product candidates that we believe will offer innovative and proprietary functional advantages to currently available alternatives. ".
Eton Pharmaceuticals was founded in 2017 and has 10 employees. The company is located at 21925 W. Field Parkway, Suite 235, Deer Park, IL, 60010, US and can be reached via phone at (847) 787-7361 or on the web at http://www.etonpharma.com.
Receive News & Ratings for Eton Pharmaceuticals Daily - Enter your email address below to receive a concise daily summary of the latest news and analysts' ratings for Eton Pharmaceuticals and related companies with MarketBeat.com's FREE daily email newsletter.