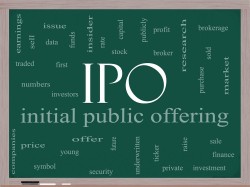 Taiwan Liposome Company, Ltd (TLC) expects to raise $29 million in an initial public offering (IPO) on Friday, November 16th, IPO Scoop reports. The company will be issuing 5,000,000 shares at $5.80 per share.
In the last year, Taiwan Liposome Company, Ltd generated $1.8 million in revenue and had a net loss of $2.8 million. Taiwan Liposome Company, Ltd has a market cap of $192 million.
Cantor served as the underwriter for the IPO and CLSA, H.C. Wainwright, Janney Montgomery Scott and Laidlaw & Company (UK) Ltd. were co-managers.
Taiwan Liposome Company, Ltd provided the following description of their company for its IPO: "(Note: "Our common shares are currently listed on the Taipei Exchange. On November 6, 2018, the last reported sale price of our common shares on the Taipei Exchange was NT$88.50 per share, or approximately $2.90 per share, equivalent to a price of $5.80 per ADS, based on an exchange rate of NT$30.57 to $1.00.(i) ) We are a clinical-stage specialty pharmaceutical company dedicated to the development and commercialization of best-in-class novel nanomedicines that combine our proprietary lipid-assembled drug delivery platform with approved active pharmaceutical ingredients (APIs). We believe that our extensive experience with liposome science allows us to combine onset speed and benefit duration, and to improve API concentrations at target tissues while decreasing unwanted systemic exposures. ".
Taiwan Liposome Company, Ltd was founded in 1997 and has 168 employees. The company is located at 11F-1, No. 3 Yuanqu Street, Nangang District, Taipei City, Taiwan 11503, Republic of China and can be reached via phone at +886 2 2655 7377 or on the web at http://www.tlcbio.com.
Receive News & Ratings for Taiwan Liposome Company Ltd Daily - Enter your email address below to receive a concise daily summary of the latest news and analysts' ratings for Taiwan Liposome Company Ltd and related companies with MarketBeat.com's FREE daily email newsletter.