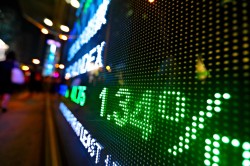 Dakota Wealth Management purchased a new position in shares of Forum Merger Ii Cl A (NASDAQ:FMCI) in the 3rd quarter, according to the company in its most recent 13F filing with the Securities and Exchange Commission. The institutional investor purchased 115,900 shares of the company's stock, valued at approximately $1,107,000.
Separately, Context Partners Fund L.P. purchased a new stake in Forum Merger Ii Cl A during the 3rd quarter valued at about $663,000. Hedge funds and other institutional investors own 0.26% of the company's stock.
Shares of NASDAQ FMCI opened at $9.63 on Wednesday. Forum Merger Ii Cl A has a 12-month low of $9.52 and a 12-month high of $9.83.
COPYRIGHT VIOLATION NOTICE: "Dakota Wealth Management Purchases Shares of 115,900 Forum Merger Ii Cl A (FMCI)" was first reported by Dakota Financial News and is the sole property of of Dakota Financial News. If you are viewing this report on another site, it was illegally copied and reposted in violation of United States and international copyright and trademark law. The legal version of this report can be read at https://dakotafinancialnews.com/2018/11/14/dakota-wealth-management-purchases-shares-of-115900-forum-merger-ii-cl-a-fmci.html.
Forum Merger Ii Cl A Company Profile
There is no company description available for Forum Merger II Corp.
Read More: What is a Market Correction?
Want to see what other hedge funds are holding FMCI? Visit HoldingsChannel.com to get the latest 13F filings and insider trades for Forum Merger Ii Cl A (NASDAQ:FMCI).
Receive News & Ratings for Forum Merger Ii Cl A Daily - Enter your email address below to receive a concise daily summary of the latest news and analysts' ratings for Forum Merger Ii Cl A and related companies with MarketBeat.com's FREE daily email newsletter.