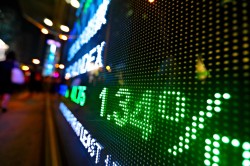 ValuEngine upgraded shares of Champion Industries (OTCMKTS:CHMP) from a sell rating to a hold rating in a research note released on Monday.
Champion Industries stock opened at $20.00 on Monday. Champion Industries has a 12-month low of $14.00 and a 12-month high of $20.00.
About Champion Industries
Champion Industries, Inc is engaged in the commercial printing and office products and furniture supply business in regional markets east of the Mississippi River. The company also publishes Herald-Dispatch daily newspaper in Huntington, also provides a full range of office products, office furniture and office design services.
Read More: Why do corrections happen?

To view ValuEngine's full report, visit ValuEngine's official website.
Receive News & Ratings for Champion Industries Daily - Enter your email address below to receive a concise daily summary of the latest news and analysts' ratings for Champion Industries and related companies with MarketBeat.com's FREE daily email newsletter.