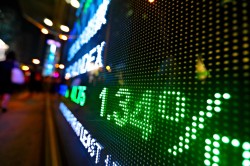 Weyland Tech Inc (OTCMKTS:WEYL) CEO Brent Suen bought 50,000 shares of the company's stock in a transaction on Friday, November 30th. The shares were acquired at an average price of $1.15 per share, with a total value of $57,500.00. The acquisition was disclosed in a document filed with the Securities & Exchange Commission, which is available through this hyperlink.
OTCMKTS:WEYL remained flat at $$1.05 during mid-day trading on Thursday. 23,445 shares of the company's stock traded hands, compared to its average volume of 88,945. Weyland Tech Inc has a 52-week low of $0.76 and a 52-week high of $7.08.
Separately, ValuEngine downgraded shares of Weyland Tech from a "buy" rating to a "hold" rating in a report on Tuesday, September 4th.
ILLEGAL ACTIVITY WARNING: This news story was originally posted by Dakota Financial News and is owned by of Dakota Financial News. If you are viewing this news story on another website, it was illegally stolen and republished in violation of US & international copyright & trademark legislation. The original version of this news story can be viewed at https://dakotafinancialnews.com/2018/12/06/brent-suen-acquires-50000-shares-of-weyland-tech-inc-weyl-stock.html.
Weyland Tech Company Profile
Weyland Tech Inc provides e-commerce solutions and services that facilitate business-to-consumer and business-to-business transactions to small-medium-sized businesses and resellers. It offers CreateApp platform to create a mobile application in Singapore, India, and the United States/Canada; and DIY App builder through a white label platform in European Union, Malaysia, Hong Kong, South China, Indonesia, North America, Thailand, the Philippines, and France.
Featured Article: What is a Leveraged Buyout (LBO)?

Receive News & Ratings for Weyland Tech Daily - Enter your email address below to receive a concise daily summary of the latest news and analysts' ratings for Weyland Tech and related companies with MarketBeat.com's FREE daily email newsletter.