Bristol-Myers Squibb Co (NYSE:BMY) announced a quarterly dividend on Thursday, December 6th, RTT News reports. Shareholders of record on Friday, January 4th will be paid a dividend of 0.41 per share by the biopharmaceutical company on Friday, February 1st. This represents a $1.64 dividend on an annualized basis and a yield of 3.08%. This is a boost from Bristol-Myers Squibb's previous quarterly dividend of $0.40.
Bristol-Myers Squibb has increased its dividend payment by an average of 2.7% per year over the last three years and has raised its dividend every year for the last 8 years. Bristol-Myers Squibb has a dividend payout ratio of 44.2% meaning its dividend is sufficiently covered by earnings. Research analysts expect Bristol-Myers Squibb to earn $4.08 per share next year, which means the company should continue to be able to cover its $1.60 annual dividend with an expected future payout ratio of 39.2%.
NYSE BMY traded up $1.22 on Thursday, reaching $53.25. 11,209,883 shares of the stock traded hands, compared to its average volume of 7,804,475. The company has a quick ratio of 1.40, a current ratio of 1.53 and a debt-to-equity ratio of 0.41. The firm has a market cap of $84.92 billion, a PE ratio of 17.69, a price-to-earnings-growth ratio of 1.45 and a beta of 1.11. Bristol-Myers Squibb has a 12 month low of $46.94 and a 12 month high of $70.05.
Bristol-Myers Squibb (NYSE:BMY) last issued its earnings results on Thursday, October 25th. The biopharmaceutical company reported $1.09 earnings per share for the quarter, beating the Zacks' consensus estimate of $0.91 by $0.18. The business had revenue of $5.69 billion during the quarter, compared to analyst estimates of $5.72 billion. Bristol-Myers Squibb had a return on equity of 47.89% and a net margin of 6.50%. On average, research analysts expect that Bristol-Myers Squibb will post 3.87 earnings per share for the current year.
A number of equities research analysts have weighed in on BMY shares. Barclays lifted their target price on Bristol-Myers Squibb from $55.00 to $58.00 and gave the company an "equal weight" rating in a research report on Friday, October 12th. Morgan Stanley cut their price target on Bristol-Myers Squibb from $63.00 to $59.00 and set a "hold" rating on the stock in a report on Tuesday, November 6th. Credit Suisse Group set a $61.00 price target on Bristol-Myers Squibb and gave the company a "hold" rating in a report on Sunday, October 14th. Zacks Investment Research upgraded Bristol-Myers Squibb from a "hold" rating to a "buy" rating and set a $70.00 price target on the stock in a report on Friday, October 5th. Finally, ValuEngine downgraded Bristol-Myers Squibb from a "hold" rating to a "sell" rating in a report on Friday, October 19th. Three analysts have rated the stock with a sell rating, eleven have assigned a hold rating and eight have issued a buy rating to the company. Bristol-Myers Squibb currently has an average rating of "Hold" and a consensus target price of $61.95.
TRADEMARK VIOLATION NOTICE: This story was first reported by Dakota Financial News and is the property of of Dakota Financial News. If you are viewing this story on another domain, it was illegally copied and reposted in violation of US and international trademark and copyright legislation. The correct version of this story can be accessed at https://dakotafinancialnews.com/2018/12/06/bristol-myers-squibb-co-bmy-declares-quarterly-dividend-of-0-41.html.
Bristol-Myers Squibb Company Profile
Bristol-Myers Squibb Company discovers, develops, licenses, manufactures, markets, and distributes biopharmaceutical products worldwide. The company offers drugs in various therapeutic classes, such as oncology; cardiovascular; immunoscience; and virology, including human immunodeficiency virus (HIV) infection.
Recommended Story: Return on Investment (ROI) Defined, Explained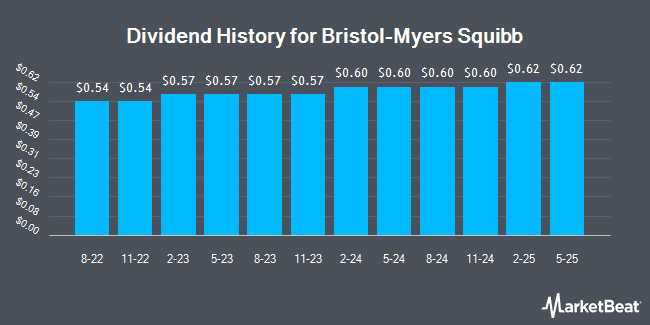 Receive News & Ratings for Bristol-Myers Squibb Daily - Enter your email address below to receive a concise daily summary of the latest news and analysts' ratings for Bristol-Myers Squibb and related companies with MarketBeat.com's FREE daily email newsletter.