Lions Gate Entertainment Corp. (NYSE:LGF.B) CFO James W. Barge bought 10,000 shares of the firm's stock in a transaction on Tuesday, December 4th. The stock was bought at an average cost of $16.32 per share, for a total transaction of $163,200.00. The purchase was disclosed in a legal filing with the SEC, which is available through this link.
NYSE LGF.B traded down $0.27 during trading hours on Thursday, reaching $16.00. The company had a trading volume of 1,402,200 shares, compared to its average volume of 530,588. Lions Gate Entertainment Corp. has a 1-year low of $15.77 and a 1-year high of $34.41. The stock has a market capitalization of $3.49 billion, a P/E ratio of 17.68 and a beta of 1.95.
The firm also recently declared a quarterly dividend, which was paid on Thursday, November 8th. Shareholders of record on Sunday, September 30th were paid a dividend of $0.09 per share. The ex-dividend date of this dividend was Thursday, September 27th. This represents a $0.36 dividend on an annualized basis and a yield of 2.25%.
A number of research analysts have commented on LGF.B shares. Loop Capital decreased their target price on shares of Lions Gate Entertainment from $36.00 to $33.00 and set a "buy" rating on the stock in a research report on Monday, October 22nd.
ValuEngine
cut shares of Lions Gate Entertainment from a "hold" rating to a "sell" rating in a research report on Wednesday, October 31st. One research analyst has rated the stock with a sell rating, two have assigned a hold rating and four have assigned a buy rating to the company. The company has an average rating of "Hold" and a consensus target price of $30.50.
COPYRIGHT VIOLATION WARNING: "Insider Buying: Lions Gate Entertainment Corp. (LGF.B) CFO Buys 10,000 Shares of Stock" was reported by Dakota Financial News and is the sole property of of Dakota Financial News. If you are viewing this news story on another website, it was illegally copied and republished in violation of US & international copyright legislation. The correct version of this news story can be viewed at https://dakotafinancialnews.com/2018/12/07/insider-buying-lions-gate-entertainment-corp-lgf-b-cfo-buys-10000-shares-of-stock.html.
Read More: What is Depreciation?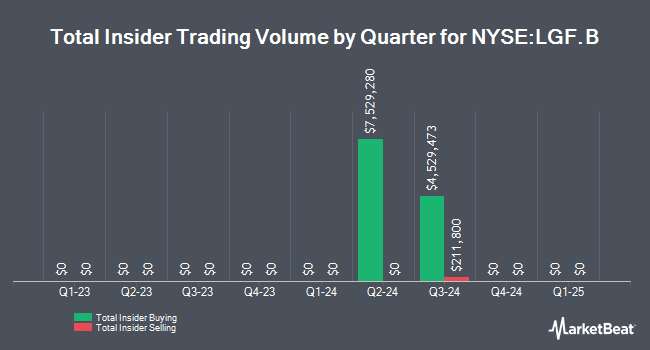 Receive News & Ratings for Lions Gate Entertainment Daily - Enter your email address below to receive a concise daily summary of the latest news and analysts' ratings for Lions Gate Entertainment and related companies with MarketBeat.com's FREE daily email newsletter.