MICHELIN COMPAG/ADR (OTCMKTS:MGDDY) – Equities research analysts at Jefferies Financial Group lowered their FY2018 EPS estimates for shares of MICHELIN COMPAG/ADR in a report released on Tuesday, December 4th. Jefferies Financial Group analyst A. Kurian now expects that the company will post earnings per share of $2.21 for the year, down from their prior forecast of $2.25. Jefferies Financial Group also issued estimates for MICHELIN COMPAG/ADR's FY2020 earnings at $2.59 EPS.
Other equities research analysts also recently issued reports about the company. Zacks Investment Research upgraded MICHELIN COMPAG/ADR from a "sell" rating to a "hold" rating in a research report on Wednesday, September 12th. Goldman Sachs Group downgraded MICHELIN COMPAG/ADR from a "buy" rating to a "neutral" rating in a research report on Tuesday, October 16th.
Shares of
MGDDY stock
opened at $20.11 on Thursday. MICHELIN COMPAG/ADR has a 1 year low of $19.24 and a 1 year high of $32.26. The company has a current ratio of 1.40, a quick ratio of 0.79 and a debt-to-equity ratio of 0.23. The company has a market cap of $18.00 billion, a price-to-earnings ratio of 9.53, a P/E/G ratio of 1.05 and a beta of 1.03.
MICHELIN COMPAG/ADR Company Profile
Compagnie Générale des Établissements Michelin manufactures, distributes, and sells tires worldwide. The company operates through three segments: Passenger Car and Light Truck Tires and Related Distribution; Truck Tires and Related Distribution; and Specialty Businesses. It offers tires for cars, vans, trucks, buses, farm machinery, earthmovers, mining and handling equipment, tramways, metros, aircraft, motorcycles, scooters, and bicycles.
Read More: Using the New Google Finance Tool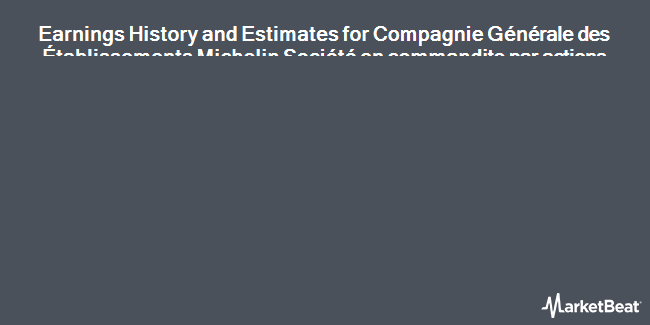 Receive News & Ratings for MICHELIN COMPAG/ADR Daily - Enter your email address below to receive a concise daily summary of the latest news and analysts' ratings for MICHELIN COMPAG/ADR and related companies with MarketBeat.com's FREE daily email newsletter.