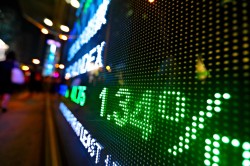 Jeffersonville Bancorp (OTCMKTS:JFBC) was downgraded by investment analysts at ValuEngine from a "hold" rating to a "sell" rating in a research report issued to clients and investors on Wednesday.
Shares of OTCMKTS:JFBC opened at $19.13 on Wednesday. Jeffersonville Bancorp has a 12-month low of $16.10 and a 12-month high of $22.00.
About Jeffersonville Bancorp
Jeffersonville Bancorp operates as a bank holding company for The First National Bank of Jeffersonville. It offers commercial banking services to individuals, small businesses, and local municipal governments. Its products include deposit, savings, loans, credit cards, mortgages. and other. The company was founded on January 12, 1982 and is headquartered in Jeffersonville, NY.
Featured Story: Can individual investors take part in an IPO?
To view ValuEngine's full report, visit ValuEngine's official website.
Receive News & Ratings for Jeffersonville Bancorp Daily - Enter your email address below to receive a concise daily summary of the latest news and analysts' ratings for Jeffersonville Bancorp and related companies with MarketBeat.com's FREE daily email newsletter.