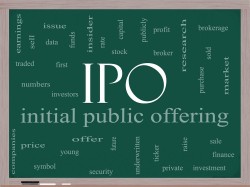 360 Finance (QFIN) is planning to raise $54 million in an initial public offering on Friday, December 14th, IPO Scoop reports. The company plans to issue 3,100,000 shares at $16.50-$18.50 per share.
In the last twelve months, 360 Finance generated $149.8 million in revenue and had a net loss of $96.7 million. 360 Finance has a market-cap of $2.9 billion.
Citigroup, Haitong International, AMTD and Lighthouse Capital acted as the underwriters for the IPO and China Securities International, TF International, HeungKong Financial and North Beta Capital were co-managers.
360 Finance provided the following description of their company for its IPO: " We are a leading digital consumer finance platform and the finance partner of the 360 Group, one of the largest internet companies in China, connecting over one billion accumulated mobile devices. We provide tailored online consumer finance products to prime, underserved borrowers funded primarily by our funding partners. Our proprietary technology platform enables a unique user experience supported by resolute risk management. When coupled with our 360 Group partnership, our technology translates to a meaningful borrower acquisition, borrower retention and funding advantage, supporting the rapid growth and scaling of our business. From inception to September 30, 2018, we had facilitated over RMB94.4 billion (US$14.3 billion) in loans to 6.4 million of our borrowers. ".
360 Finance was founded in 2016 and has 691 employees. The company is located at China Diamond Exchange Center, Building B, No. 555 Pudian Road, No. 1701 Century Avenue, Pudong New Area, Shanghai 200122, People's Republic of China and can be reached via phone at +86 21 6151-6360 or on the web at http://www.360jie.com.cn.
Receive News & Ratings for 360 Finance Daily - Enter your email address below to receive a concise daily summary of the latest news and analysts' ratings for 360 Finance and related companies with MarketBeat.com's FREE daily email newsletter.