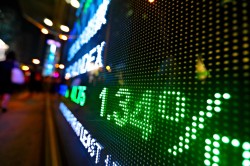 Educational Development (NASDAQ:EDUC) announced its quarterly earnings results on Thursday. The company reported $0.34 earnings per share (EPS) for the quarter, Bloomberg Earnings reports. Educational Development had a net margin of 5.05% and a return on equity of 29.39%.
Educational Development stock traded down $0.44 during midday trading on Friday, reaching $9.32. 7,491 shares of the company traded hands, compared to its average volume of 9,428. The company has a market cap of $83.60 million, a price-to-earnings ratio of 13.42 and a beta of 1.31. Educational Development has a 12 month low of $7.53 and a 12 month high of $14.35. The company has a quick ratio of 0.22, a current ratio of 1.62 and a debt-to-equity ratio of 0.83.
The company also recently announced a quarterly dividend, which was paid on Thursday, December 13th. Stockholders of record on Tuesday, November 27th were paid a $0.05 dividend. The ex-dividend date of this dividend was Monday, November 26th. This represents a $0.20 annualized dividend and a dividend yield of 2.15%.
In other Educational Development news, CEO Randall W. White sold 7,656 shares of the stock in a transaction that occurred on Friday, December 14th. The shares were sold at an average price of $10.43, for a total value of $79,852.08. Following the transaction, the chief executive officer now directly owns 1,332,390 shares in the company, valued at $13,896,827.70. The transaction was disclosed in a legal filing with the Securities & Exchange Commission, which can be accessed through
this hyperlink
. In the last 90 days, insiders have purchased 3,935 shares of company stock worth $29,686 and have sold 10,056 shares worth $105,532. 23.60% of the stock is owned by corporate insiders.
TRADEMARK VIOLATION NOTICE: This story was first published by Dakota Financial News and is the sole property of of Dakota Financial News. If you are viewing this story on another site, it was illegally stolen and reposted in violation of U.S. and international copyright & trademark laws. The original version of this story can be read at https://dakotafinancialnews.com/2019/01/11/educational-development-educ-releases-earnings-results.html.
About Educational Development
Educational Development Corporation, a publishing company, operates as a trade co-publisher of the line of educational children's books in the United States. The company offers various books, including Touchy-Feely board books, activity and flashcards, adventure and search books, art books, sticker books, and foreign language books, as well as science and math titles, and chapter books and novels.
Recommended Story: Stock Split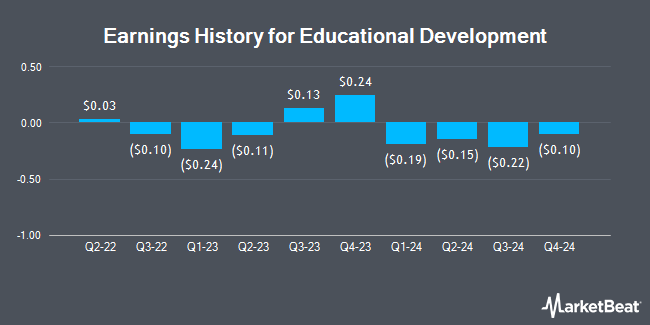 Receive News & Ratings for Educational Development Daily - Enter your email address below to receive a concise daily summary of the latest news and analysts' ratings for Educational Development and related companies with MarketBeat.com's FREE daily email newsletter.