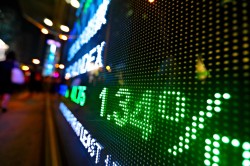 Prada (OTCMKTS:PRDSF)'s stock had its "hold" rating reaffirmed by Berenberg Bank in a research report issued to clients and investors on Thursday.
Separately, Credit Suisse Group reiterated an "outperform" rating on shares of Prada in a report on Tuesday, November 27th.
Shares of Prada stock opened at $3.07 on Thursday. Prada has a 52-week low of $3.07 and a 52-week high of $5.86.
Prada Company Profile
Prada S.p.A., together with its subsidiaries, designs, produces, and distributes leather goods, handbags, footwear, apparel, and accessories in Europe, the Americas, the Asia Pacific, Japan, the Middle East, and internationally. The company offers its products under the Prada, Miu Miu, Church's, Car Shoe, and Pasticceria Marchesi brands.
Recommended Story: New Google Finance Tool and Screening Stocks
Receive News & Ratings for Prada Daily - Enter your email address below to receive a concise daily summary of the latest news and analysts' ratings for Prada and related companies with MarketBeat.com's FREE daily email newsletter.