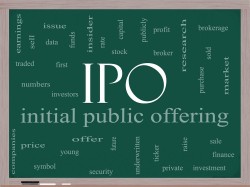 New Fortress Energy (NFE) plans to raise $300 million in an initial public offering on Thursday, February 14th, IPO Scoop reports. The company will issue 20,000,000 shares at a price of $15.00 per share.
In the last 12 months, New Fortress Energy generated $106.2 million in revenue and had a net loss of $55.7 million. The company has a market-cap of $3 billion.
Morgan Stanley, Barclays, Citigroup and Credit Suisse acted as the underwriters for the IPO and Evercore ISI, Allen & Company, JMP Securities and Stifel were co-managers.
New Fortress Energy provided the following description of their company for its IPO: " We are an integrated gas-to-power company that seeks to use "stranded" natural gas to satisfy the world's large and growing power needs. Our mission is to provide modern infrastructure solutions to create cleaner, reliable energy while generating a positive economic impact worldwide. Our business model is simple, yet, we believe, unique for the LNG industry. We aim to deliver targeted energy solutions to customers around the world, thereby reducing their energy costs and diversifying their energy resources, while also reducing pollution and generating compelling margins. ".
New Fortress Energy was founded in 2018 and has 147 employees. The company is located at 111 W. 19th Street, 8th Floor, New York, NY 10011, US and can be reached via phone at (516) 268-7400 or on the web at http://www.newfortressenergy.com.
Receive News & Ratings for New Fortress Energy Daily - Enter your email address below to receive a concise daily summary of the latest news and analysts' ratings for New Fortress Energy and related companies with MarketBeat.com's FREE daily email newsletter.