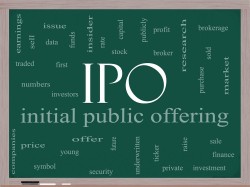 RMG Acquisition (RMG.U) plans to raise $200 million in an IPO on Friday, February 8th, IPO Scoop reports. The company plans to issue 20,000,000 shares at a price of $10.00 per share.
RMG Acquisition has a market cap of $200 million.
Deutsche Bank Securities served as the underwriter for the IPO.
RMG Acquisition provided the following description of their company for its IPO: " We intend to capitalize on the ability of our management team to identify, acquire and operate a business in the diversified resources and industrial materials sectors, including the chemicals, energy services and alternatives, environmental services, metals and power sectors, that may provide opportunities for attractive long-term risk-adjusted returns, though we reserve the right to pursue an acquisition opportunity in any business or industry. ".
RMG Acquisition was founded in 2018 and has 0 employees. The company is located at 50 West Street, Suite 40C, New York, NY 10006, US and can be reached via phone at (212) 785-2579.
Receive News & Ratings for RMG Acquisition Daily - Enter your email address below to receive a concise daily summary of the latest news and analysts' ratings for RMG Acquisition and related companies with MarketBeat.com's FREE daily email newsletter.