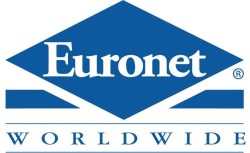 Euronet Worldwide (NASDAQ:EEFT) released its quarterly earnings data on Friday. The business services provider reported $1.37 earnings per share for the quarter, topping the Zacks' consensus estimate of $1.21 by $0.16, MarketWatch Earnings reports. The firm had revenue of $649.40 million for the quarter, compared to analyst estimates of $663.82 million. Euronet Worldwide had a net margin of 6.02% and a return on equity of 24.13%. The business's quarterly revenue was up 7.4% compared to the same quarter last year. During the same quarter in the prior year, the business earned $1.13 earnings per share. Euronet Worldwide updated its Q1 guidance to ~$0.83 EPS.
NASDAQ:EEFT traded up $12.06 on Friday, reaching $127.39. The stock had a trading volume of 55,087 shares, compared to its average volume of 377,265. The firm has a market cap of $6.02 billion, a price-to-earnings ratio of 29.36, a price-to-earnings-growth ratio of 1.33 and a beta of 1.12. The company has a current ratio of 1.46, a quick ratio of 1.46 and a debt-to-equity ratio of 0.55. Euronet Worldwide has a 12-month low of $70.67 and a 12-month high of $121.93.
Several equities analysts have recently weighed in on the stock. Zacks Investment Research downgraded shares of Euronet Worldwide from a "buy" rating to a "hold" rating in a research note on Monday, December 17th. BidaskClub cut shares of Euronet Worldwide from a "strong-buy" rating to a "buy" rating in a report on Saturday, December 15th. One equities research analyst has rated the stock with a sell rating, one has given a hold rating, ten have issued a buy rating and one has issued a strong buy rating to the stock. The stock presently has an average rating of "Buy" and a consensus price target of $127.56.
In other Euronet Worldwide news, CEO Kevin J. Caponecchi sold 50,922 shares of the company's stock in a transaction dated Monday, December 3rd. The shares were sold at an average price of $119.53, for a total value of $6,086,706.66. Following the transaction, the chief executive officer now directly owns 97,774 shares in the company, valued at approximately $11,686,926.22. The transaction was disclosed in a legal filing with the SEC, which is available through
the SEC website
. Also, CFO Rick Weller sold 40,000 shares of the company's stock in a transaction dated Monday, December 3rd. The shares were sold at an average price of $120.31, for a total transaction of $4,812,400.00. Following the completion of the transaction, the chief financial officer now owns 33,944 shares in the company, valued at $4,083,802.64. The disclosure for this sale can be found
here
. Over the last 90 days, insiders sold 197,716 shares of company stock worth $23,154,994. 7.40% of the stock is owned by insiders.
COPYRIGHT VIOLATION NOTICE: "Euronet Worldwide (EEFT) Posts Earnings Results, Beats Expectations By $0.16 EPS" was originally published by Dakota Financial News and is owned by of Dakota Financial News. If you are viewing this report on another website, it was stolen and republished in violation of US and international copyright laws. The legal version of this report can be viewed at https://dakotafinancialnews.com/2019/02/08/euronet-worldwide-eeft-posts-earnings-results-beats-expectations-by-0-16-eps.html.
About Euronet Worldwide
Euronet Worldwide, Inc provides payment and transaction processing and distribution solutions to financial institutions, retailers, service providers, and individual consumers worldwide. The company operates in three segments: Electronic Financial Transaction (EFT) Processing, epay, and Money Transfer.
Featured Story: What does cost of debt say about a company's financial health?
Receive News & Ratings for Euronet Worldwide Daily - Enter your email address below to receive a concise daily summary of the latest news and analysts' ratings for Euronet Worldwide and related companies with MarketBeat.com's FREE daily email newsletter.