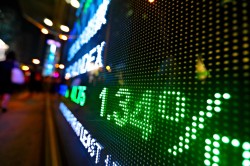 Aytu Bioscience (NASDAQ:AYTU) issued its earnings results on Thursday. The company reported ($0.72) earnings per share (EPS) for the quarter, missing the Zacks' consensus estimate of ($0.35) by ($0.37), Bloomberg Earnings reports. Aytu Bioscience had a negative net margin of 217.45% and a negative return on equity of 110.91%. The company had revenue of $1.80 million during the quarter, compared to analysts' expectations of $1.58 million.
Shares of Aytu Bioscience stock opened at $1.03 on Friday. Aytu Bioscience has a 12-month low of $0.68 and a 12-month high of $50.00. The stock has a market capitalization of $8.89 million, a price-to-earnings ratio of -0.04 and a beta of 4.96.
Separately, Northland Securities began coverage on shares of Aytu Bioscience in a report on Monday, October 22nd. They issued an "outperform" rating and a $10.00 target price for the company.
COPYRIGHT VIOLATION WARNING: "Aytu Bioscience (AYTU) Issues Earnings Results" was published by Dakota Financial News and is the sole property of of Dakota Financial News. If you are viewing this news story on another site, it was stolen and reposted in violation of United States & international trademark & copyright legislation. The original version of this news story can be read at https://dakotafinancialnews.com/2019/02/09/aytu-bioscience-aytu-issues-earnings-results.html.
Aytu Bioscience Company Profile
Aytu BioScience, Inc, a specialty healthcare company, focuses on developing and commercializing novel products in the field of hypogonadism (low testosterone), insomnia, and male infertility in the United States and internationally. The company markets Natesto, a nasal gel for the treatment of hypogonadism (low testosterone) in men; and ZolpiMist, an oral spray for the treatment of insomnia.
Read More: Calculating net profit and net profit margin ratio
Receive News & Ratings for Aytu Bioscience Daily - Enter your email address below to receive a concise daily summary of the latest news and analysts' ratings for Aytu Bioscience and related companies with MarketBeat.com's FREE daily email newsletter.