Castle Brands (NYSEAMERICAN:ROX) posted its earnings results on Friday. The company reported ($0.01) earnings per share for the quarter, missing analysts' consensus estimates of $0.01 by ($0.02), Bloomberg Earnings reports. The firm had revenue of $22.54 million for the quarter, compared to analysts' expectations of $26.20 million.
Castle Brands stock traded down $0.04 during trading hours on Friday, hitting $0.83. The company had a trading volume of 303,568 shares, compared to its average volume of 203,243. Castle Brands has a 1 year low of $0.74 and a 1 year high of $1.42.
In related news, Director Phillip Md Et Al Frost acquired 75,000 shares of the stock in a transaction on Thursday, December 27th. The stock was bought at an average cost of $0.83 per share, with a total value of $62,250.00. Following the transaction, the director now directly owns 794,776 shares in the company, valued at $659,664.08. The transaction was disclosed in a filing with the Securities & Exchange Commission, which is accessible through the SEC website. Over the last three months, insiders acquired 211,500 shares of company stock valued at $175,420.
A number of research firms recently commented on ROX. Maxim Group began coverage on shares of Castle Brands in a research note on Wednesday, January 16th. They set a "hold" rating for the company. Barrington Research set a $2.00 price target on shares of Castle Brands and gave the stock a "buy" rating in a research note on Friday, January 18th.
ILLEGAL ACTIVITY WARNING: This report was published by Dakota Financial News and is the sole property of of Dakota Financial News. If you are viewing this report on another publication, it was copied illegally and reposted in violation of international copyright & trademark legislation. The original version of this report can be read at https://dakotafinancialnews.com/2019/02/09/castle-brands-rox-announces-earnings-results.html.
Castle Brands Company Profile
Castle Brands Inc, together with its subsidiaries, develops, markets, imports, and sells beverage alcohol and non-alcoholic beverage products in the United States, Canada, Europe, and Asia. The company offers premium and super premium rums, whiskey, liqueurs, vodka, tequila, wine, amaretto, and other spirits, as well as ginger beer and ready-to-drink cocktails.
Read More: Futures Contract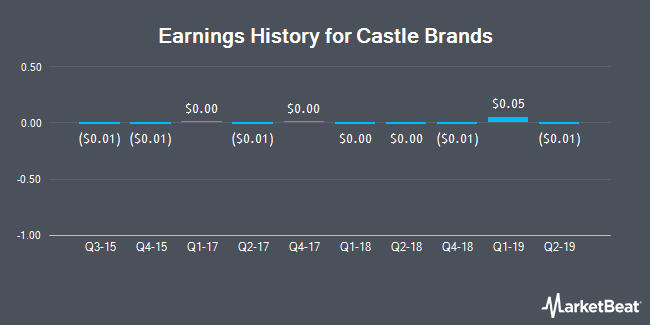 Receive News & Ratings for Castle Brands Daily - Enter your email address below to receive a concise daily summary of the latest news and analysts' ratings for Castle Brands and related companies with MarketBeat.com's FREE daily email newsletter.